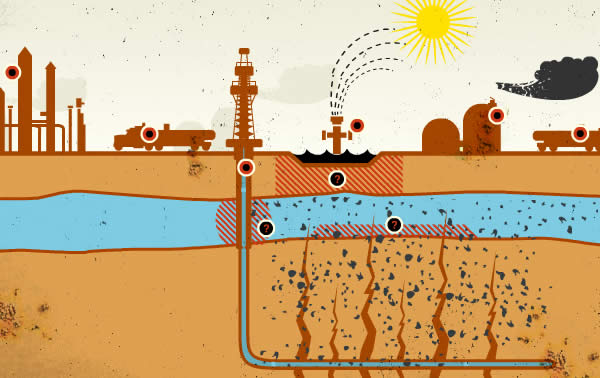 Van Eck Global, a New York-based money management firm with $35 million in assets from dirty energy, today launched an energy Exchange Traded Fund (ETF) focused on companies that look for and produce "unconventional" sources of oil and gas, such as oil sands. The New York Stock Exchange name chosen for this "Market Vectors Unconventional Oil and Gas ETF" is "NYSEArca: FRAK".
Van Eck defined unconventional oil and natural gas as oil shales, tight sand, coal-bed methane and shale gas, among other sources. It said such resources may be geographically extensive or deeply embedded in underground rock formations and can be difficult to extract without the "use of developing technologies."
The "developing technologies" include hydraulic fracturing—often referred to as "fracking"—as well as horizontal drilling.  Hydrofracking for gas injects toxic laden fresh water and sand at extremely high
pressure into rock layers to shatter the stone and release the gas. In over 30 states, hydrofracking has generated immense environmental problems, including contaminated drinking water, toxic waste ponds, drilling fluid leaks, and flammable tap water.
Shawn Reynolds is a senior analyst with Van Eck Global Hard Assets Fund. "It doesn't stop with natural gas," said Reynolds. "That is really where a lot of the excitement is—in using some of those technologies to unlock new oil plays." What a sick fuck.
Indeed, according to Reynolds, in 2005, oil production in the United States was about 7.3 million barrels a day, and in 2011 averaged about 8.3 million barrels.
Fund Details
The new fund tracks a proprietary Van Eck index of the same name, and will normally invest at least 80 percent of its assets in companies primarily engaged in a variety of activities related to the exploration, development, extraction, production and/or refining of unconventional oil and natural gas, the company said in a recent regulatory filing.
Van Eck's Senior Management includes Jan F. van Eck, CEO. He is a heavy campaign financer to Randy Altschuler, Republican for Congress, whose platform includes expansion of domestic offshore drilling.
Van Eck headquarters are located at:
335 Madison Avenue, 19th Floor
New York, NY 10017
800.826.2333.