Bank Backing 'Cop City' Targeted As Hundreds Take To Streets Of Atlanta Following Police Killing
from It's Going Down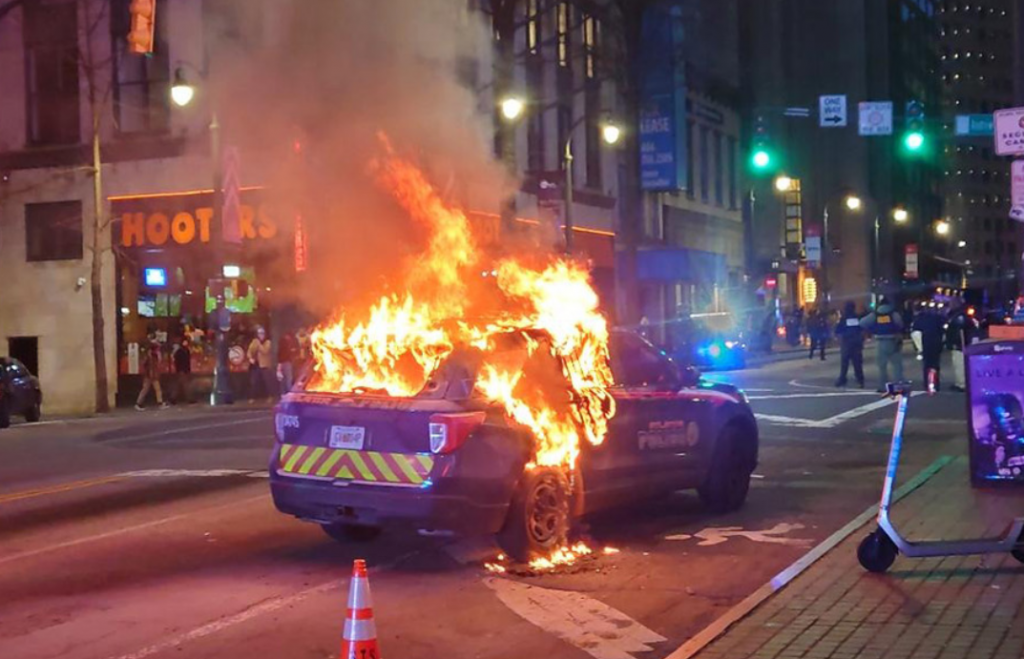 On January 21st, about 400 people gathered in Underground Atlanta, where people shared their love and memories of Manuel Esteban Paez Terán, also known as Tortuguita, and called for justice in the wake of their death at the hands of the police.
Video: On Jan. 21, 100s of protestors gathered in downtown Atlanta to remember Manuel "Tortuguita" Teran, who was killed by police on Jan. 18.

Teran died in a tree-sit to stop 'Cop City', a proposed police training center project slated to demolish Atlanta's largest forest. pic.twitter.com/5gi0vzXE8n

— UNICORN RIOT  mastodon.social/@UnicornRiot  (@UR_Ninja) January 22, 2023
After 30 minutes, the crowd took off. About 3/4 of the crowd were in black bloc. Activists from the Party for Socialism and Liberation (PSL) attempted to lead the group south, perhaps towards the atate Capitol building or the CNN center, but bloc members turned the crowd around and led them north. The sun was just starting to set as the bloc, about 300 strong, turned north up Peachtree street. The commercial downtown district, gutted out by years of neoliberal policy, is populated almost exclusively by business people, university students, and unhoused people.
The bloc traveled north, as road flares and fireworks marked their progress. Umbrellas blocked local news video cameras as graffiti sprung up on walls, with phrases like "RIP Little Turtle" and "Stop Cop City." The crowd chanted, "No justice! No Peace!," and "Be Like Water," as they moved along at a brisk pace, flanked by reporters. Bank windows were smashed and umbrellas blocked cameras, with a Wells Fargo branch, a funder of Cop City, receiving special attention.
Soon, the raucous crowed arrived at 191 Peachtree Street, the building housing the Atlanta Police Foundation. Rocks flew, smashing into the front of the building, as marchers smashed out even more windows. Fireworks lit the scene up. A cop car left unattended in the area was smashed, while another caught fire.
As the police pulled up, the crowd dispersed. Some individuals were tackled and violently arrested by the police, with Unicorn Riot later reporting that one person may have been run over by a police car. As the crowd dissipated, more police flooded the mile-long stretch of Peachtree Street the group had marched up.
In a later press conference, police, who have been violently attacking Cop City opponents for months in an effort to destroy an entire forest, claimed that property destruction was "terrorism."
Local activists are encouraging people to donate to the Atlanta Solidarity Fund to help support those arrested by law enforcement.
Vengeance from Oakland – ¡Viva Tortuguita!
from Scenes from the Atlanta Forest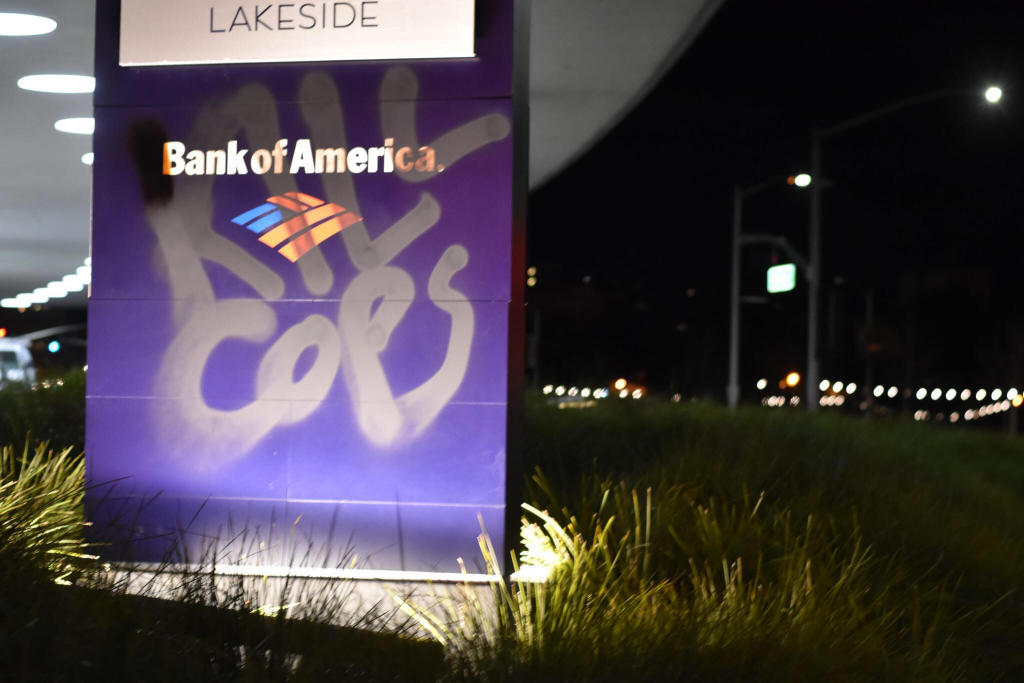 On the night of January 20th 2023, 30 mournful anarchists took vengeful action against our enemies for the murder of Cami/Tortuguita in the Atlanta Forest two days prior. We shattered dozens of windows along the glass facade of a Bank of America building in downtown Oakland, destroyed the ATM's, and repainted the walls with people's messages of love, memory, solidarity, and rage at the assassination of our comrade before lighting the place up with molotov cocktails.
Bank of America is an enemy of the people and life itself. They currently fund the construction of cop city in Atlanta, the same project that threatens the forest that Tortuguita died defending. They deserve no place in our landscape. We destroyed quickly but tirelessly. Like the peasants in the Jacquerie, the Luddite wreckers, or the Haitian revolutionaries, we seek liberation in the most obvious way: the destruction of what we know is the cause of our suffering. And if we destroy much, it is because we have suffered much. "Vengeance! Vengeance!" is our war-cry.
To our enemies who seek to liquidate our lives and the earth: you will not murder us with impunity! We will strike back, each time more fiercely than before. The more you take from us, the more we have to fight for—the less we have to lose.
To our fallen comrades: your deaths will never be in vain! We will avenge you one thousand times over! Your blood is our blood. Your lives light the path of our struggle, and this is only the beginning.
We support Tortuguita whether they shot at the pigs or not. A shot fired at police is an act of liberation.
TORTUGUITA VIVE, LA LUCHA SIGUE
MARTYRS NEVER DIE
THE FLAME OF ANARCHY BURNS BRIGHT
COP CITY WILL NEVER BE BUILT
FOR A WORLD FREE OF MONEY, COPS, AND PRISONS
FOR A WORLD FILLED WITH TREES, ANIMALS, AND LIFE
WEELAUNEE PEOPLE'S FOREST FOREVER
Chicago Abolitionists Shut Down Bank of America ATM by Gluing Access Points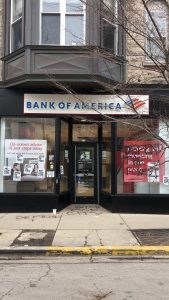 from Scenes from the Atlanta Forest
Friday night, January 20th, Chicago abolitionists in solidarity with the movement to Stop Cop City and Defend the Atlanta Forest glued shut the card reader and keyhole at a Bank of America ATM and "Virtual Banking" facility in Chicago's affluent Lincoln Park neighborhood (2428 N Lincoln Ave). They also left messages, including STOP COP CITY, DEFEND THE ATLANTA FOREST, and ACAB on the ATM windows and door. The incident was in response to the murder of a forest defender by police in Atlanta on January 18th, 2023.
Bank of America is a top funder of police foundations across the US, in particular the Atlanta Police Foundation, which is funding the destruction of Weelaunee Forest in "Atlanta" to build "Cop City." The intended facility would be a militarized police training compound, including a mock city for cops to practice urban warfare on Atlanta's residents, particularly the Black and Brown and poor communities adjacent to the forest. In 2020, BOA gave at least $50,000 to the foundation; tax data from 2021-22 is not yet available.
Bank of America also bankrolls the Chicago Police Foundation, with BoA Senior Vice President Patricia Provenzano sitting on its board.
On January 18th, police in Atlanta murdered a forest defender, Manuel "Tortuguita" Teran, as they attempted to force people out of the forest to allow the destruction to proceed. This violence is further proof that police only serve and protect the interests of the wealthy and powerful – bankers and capitalists who will happily have people murdered and ecosystems destroyed to continue hoarding wealth.
From @defendtheatlantaforest @stopcopcity on Instagram, friends said: "Tortuguita was a kind, passionate, loving person cherished by their community. They spent their time between Atlanta, defending the forests from destruction and coordinating mutual aid, and Florida where they helped build housing in low income communities hit hardest by the hurricane. They were a medic, a loving partner, a dear friend, a brave soul, and so much more."
Chicago activists echo the calls of Atlanta forest defenders to immediately stop the attacks on the forest and abandon plans to build Cop City.
Graffiti in Solidarity with Atlanta and in Memory of Tortuguita in South NJ
from Jersey Counter-Info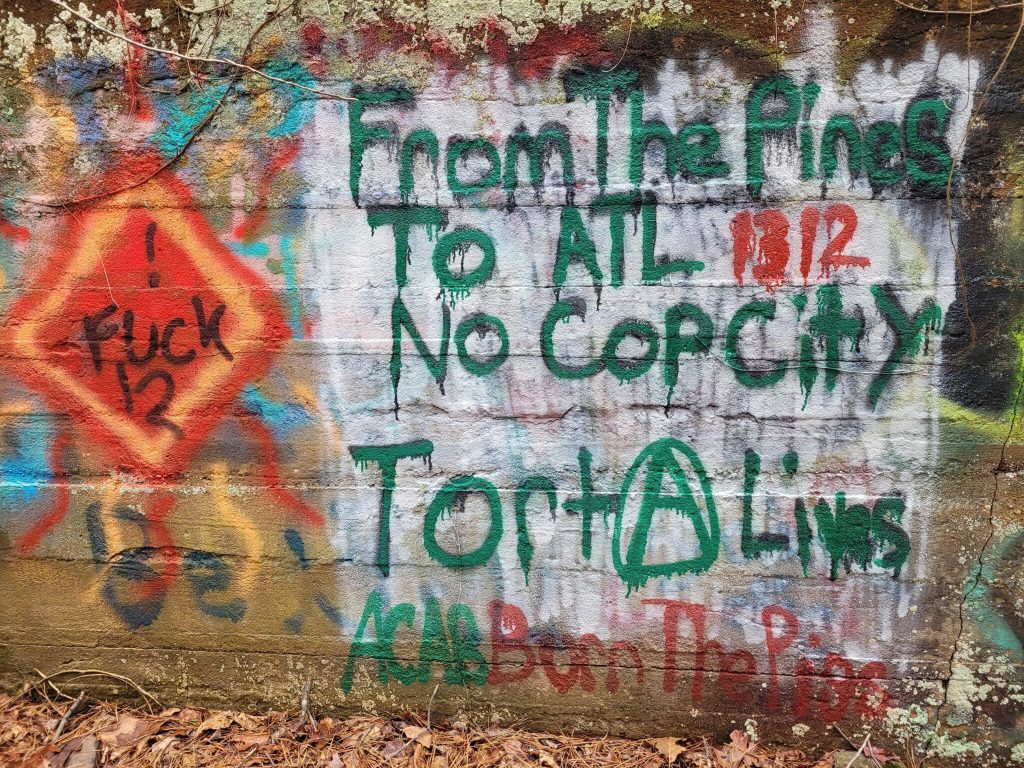 Graffiti placed in the Pinelands of NJ in solidarity with the struggle to Stop Cop City and to Defend the Atlanta Forest and in memory of Tortuguita who was murdered by police while defending the Atlanta Forest.