from Anarchist News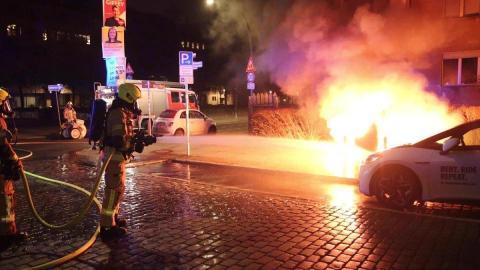 Translation of article from Kontrapolis
In the night from Thursday (the 19.01.) to Friday an electric car charging station at the Engelbecken in Berlin Kreuzberg was set on fire. It happened in a night full of international actions to show solidarity with our comrade Alfredo Cospito. It is reported that he will soon be force-fed, against which he clearly and forcefully opposes. In a letter to his lawyer he writes:
"[…] Life is meaningless in this grave for the living."
This act is also an act against green capitalism, which is sold as a holy solution to today's capitalism. This is, of course, nonsense and continues to reinforce mechanisms of oppression that are already inherent in the system today. Among these can be named colonialism, from which many countries in the global South suffer because capitalist companies from the global North plunder the resources there. Because, in order to satiate the rush for an electric mobility, tons of rare earth, minerals and raw materials have to be extracted and thus countless human lives are stolen, families torn apart, communities ruined, ecosystems destroyed. We would like to share with you a detailed article about the connection between capitalism and colonialism with the following link:
https://kontrapolis.info/7953/
Furthermore, consequences of destructive capitalism, to a lesser extent, are also felt near us. We think of, the people who have defended Lützerath to the end and welcome those who have resisted with all means. But after the eviction is unfortunately still before the eviction, so we send out a lot of strength to all other (forest) occupations (Heibo, Fecher, etc.).
These charging stations are often used to charge electric SUVs or car sharing cars, for those who can afford something other than public transport. This sends electricity into inefficient individual transportation options and money into the pockets of private companies. Even more money is wasted in this, as the Berlin Senate is supporting the "implementation of the electrification of commercial motor vehicle fleets in the capital" through the WELMO funding program. At a time when more and more people are having trouble paying their (electricity) bills… we don't need to explain further.
This one action remains symbolic in itself. One column among hundreds that exist in Berlin is not much. But this night we have seen that these stations are relatively easy targets for direct actions and are difficult to delete. Thereby you need once good strength and a DNA-free tool to crack the door, and a flammable package that can be placed inside.
We also want to call for the days of action in solidarity with Alfredo Cospito! https://de.indymedia.org/node/253254