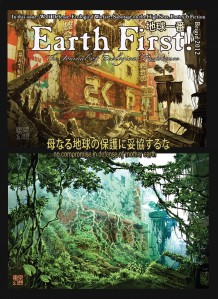 Well, here are some sample articles from Brigid 2012, now up online:
If Deep Green Resistance & the Occupy movement merged
Reflections from Greece, Fall 2011
By panagioti, of the Earth First! Journal editorial collective
Eat, Sleep, Click
A bicycle-powered internet? or "How much fracking is that cat porn worth to you?"
By Jane Anne Morris, author of Gaveling Down the Rabble
The Black Fish
Joining the fight for the oceans
By Wietse van der Werf, co-founder of Black Fish, recently formed ocean defense organization
The Howls of Reprisal
Wolf Defense in Oregon
By Justin of the Animal Defense League

The issue also includes stories on Biofuels & Land Struggle in Central America, Updates from the Northern Rockies on Wolf and Tar Sand Resistance, Letters from Comrades Behind Bars, Warrior Poetry, Eco-Fiction, and so much more. Check out a PDF of the Table of Contents.
To order a copy, or get a subscription, visit www.earthfirstjournal.org today.