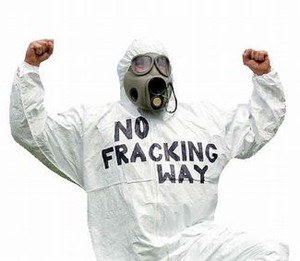 Article by Steven Rosenfeld, from Alternet.org
Pennsylvania, where the Declaration of Independence and U.S. Constitution were signed and where the U.S. coal, oil and nuclear industries began, has adopted what may be the most anti-democratic, anti-environmental law in the country, giving gas companies the right to drill anywhere, overturn local zoning laws, seize private property and muzzle physicians from disclosing specific health impacts from drilling fluids on patients.
The draconian new law, known as

Act 13

, revises the state's oil and gas statutes, to allow oil companies to drill for natural gas using the controversial process known as

hydraulic fracturing

or fracking, where large volumes of water and toxic chemicals are pumped into vertical wells with lateral bores to shatter the rock and release the hydrocarbons. The law strips rights from communities and individuals while imposing new statewide drilling rules.
"It's absolutely crushing of local self-government," said Ben Price, project director for the

Community Environmental Legal Defense Fund

, which has helped a handful of local communities—including the city of Pittsburgh—adopt community rights ordinances that elevate the rights of nature and people to block the drilling. "The state has surrendered over 2,000 municipalities to the industry. It's a complete capitulation of the rights of the people and their right to self-government. They are handing it over to the industry to let them govern us. It is the corporate state. That is how we look at it."
Needless to say, Pennsylvania's top political leadership—Republican Gov. Tom Corbett and Republican-controlled

legislature

—see Act 13 as a pro-business, clean-energy

bill

creating jobs, revenue and improving environmental laws surrounding drilling. That the 174-page

bill

was essentially rammed through the legislature over objections from local officials, environmentalists and a handful of legislators who said it not only

turned

"300 years of local zoning upside down," but exposed the state to liability from wells, was irrelevant. "This growing industry will provide new career opportunities that will give our children a reason to stay here in Pennsylvania," Corbett said, when

signing

the bill into law on February 14.