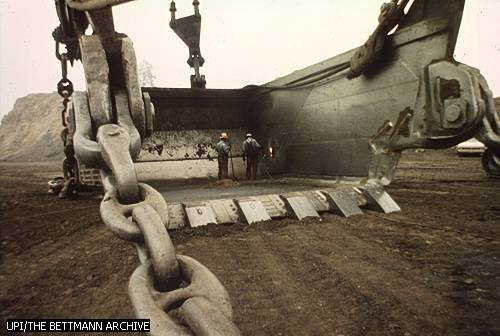 Almost six years after Nova Scotia imposed a moratorium on 13 surface coal mining projects in Cape Breton, the province is about to release a report that can reopen operations.
Next month, the ministers of environment and natural resources will be handed a study –  produced by the government and university scientists – that allows a surface mine in Cape Breton to proceed as a case study.
The study and the moratorium started in 2006 due to public opposition to the provincial government's decision to grant a surface mining permit to Pioneer Coal Ltd. of Antigonish.
The company was told it could begin mining 1.6 million tons of coal from close to the surface of the former Prince mine near Point Aconi, the last operating underground mine in Nova Scotia, which closed in 2001.
Two years later, the province issued a call for proposals to restart development of the Sydney Coalfield — the largest coal operation in Eastern Canada. The result was 14 surface mining proposals and a single seven-year permit for Pioneer.
The operation has moved into a reclamation phase that includes cleaning up the old Prince mine site and restoring the land and its vegetation. The work is supposed to be completed within a year of the mine's closure, expected in 2013.
Local residents say the Pioneer project has been a disaster from Day 1.
"How would you like to have a bulldozer in your backyard all night long?" said Brian Gerrow, who lives within a kilometre of the mine site.
"All summer, we can't open the windows because of the noise and the dust. You can't get a breath of air. . . . This has been going on since they started."
Officials with Pioneer did not respond to two requests for an interview.

Gerrow, a retired coal miner who worked underground for 33 years, said weekly blasting at the mine has damaged some homes, including his own. He said he filed claims with the company after his two chimneys were damaged, but the company turned him down.
"They had one (blast) that really shook the house the other day," he said. "It's the same as an earthquake. . . . Everything vibrates."
The department also investigated an incident involving wetlands in 2009, cited the company for failing to comply with blasting guidelines in 2010, and is investigating a report that a blast last month may have exceeded vibration limits.
Local residents Sylvia and Earl Cantwell said it's not unusual for big trucks to start rumbling out of the mine site at 5:30 a.m., with 45 to 60 trucks rolling past their home daily in Little Bras d'Or.
Earl Cantwell, a carpenter near retirement age, scoffs at the suggestion that the former Prince mine had to be dug up after a consultant determined its abandoned mine shafts and several adjacent bootleg mines posed a hazard to local residents.
"We told him he was full of organic bovine fertilizer," Cantwell said, adding that a majority of Crown land that was clearcut and mined had never seen commercial mining before.
"We haven't taken anybody on tour yet that wasn't physically sick when they saw what's going on here."
Government officials say 40 to 50 hectares had been previously disturbed by mining on the 85-hectare site.
Jean Sawyer, a volunteer with the Citizens Against Strip Mining advocacy group, said Pioneer has transformed the undisturbed Crown land around the old mine site into a barren mess.
"Before, it was a beautiful, healthy forest full of all kinds of plants," she said in an interview from her home in Black Rock. "It was a fascinating place to walk around. They totally clearcut it, dug it up, excavated the coal, blasted it and now it's just a moonscape."
Though the mine is about eight kilometres from her house, Sawyer is worried the provincial government will soon grant approval to the other projects on hold, including one much closer to her home.
"They're trying to justify it by saying the land was dangerous and derelict. The local residents have said there's nothing wrong with the land. It was just an excuse to strip-mine it. (And) there's been no cleanup of the Prince mine at all."
The Natural Resources Department says about 25 per cent of the site has been reclaimed, which means the pits have been filled in, the land contoured and grass and shrubbery planted. But Davidson said it will take years before the land starts to look like the patch of mixed Acadian forest it once was.
"You can't transplant the trees into those kind of areas once they're cleared," he said. "But there's certainly lots of wildlife in the area."
Most of the coal extracted from the mine, which was to employ about 40 people, is sold to Nova Scotia Power and burned in its Point Aconi generating station about two kilometres away.
There is one other surface coal mine in Nova Scotia, operated by Pioneer, west of Stellarton.