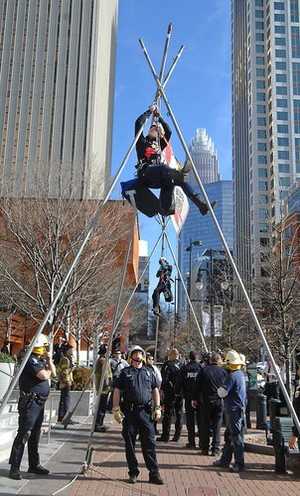 Cross Posted from Charlotte Observer
Six Greenpeace protesters were arrested after unfurling a sign in front of the Duke Energy building Wednesday morning, protesting the company's recently-approved rate hikes.
The protesters ascended 20-foot-tall tripods and hung a banner between them that read "Duke Energy: no dirty rate hikes." They were wearing t-shirts that said "Be a good neighbor."
The protest generated a large response from police officers and fire officials, but no one was injured. Authorities blocked a portion of South Tryon Street near Stonewall Street as they worked to remove the sign.
CMPD Capt. Jeff Estes said the protesters all face misdemeanor charges, including blocking the sidewalk.
Three are charged with violating a recently-passed city code ordinance that prohibits people from placing "any instrument, tripod, bipod or other pole or object with the intent to obstruct pedestrian or vehicular movement on a public road, public sidewalk, public right of way, entrance or exit to private property or any other area open to the public." The ordinance was passed in January in preparation for the upcoming Democratic National Convention, officials said.
Last month, the N.C. Utilities Commission approved an overall 7 percent rate increase for Duke Energy's 1.8 million customers in the state. Monthly bills for typical residential customers will go up about $7.
Greenpeace sent out two press releases early Wednesday about the protest, and posted messages and pictures about the protest near the Bechtler museum on Twitter. One tweet referred to the Duke CEO Jim Rogers read: "Be a good neighbor, Jim Rogers! Stop polluting the neighborhood."
Duke says Greenpeace continues to ignore the utility's progress in cleaning up its emissions. The rate hike approved in January will pay for $5 billion in new construction as it replaces 3,800 megawatts of older, dirtier power plants by 2015.
"The irony is that the same environmental protesters who urged us to improve the performance of those plants are now protesting Duke Energy for doing so," said company spokesman Dave Scanzoni.
Duke is in the midst of a $7 billion construction blitz that will include two new coal power plants in North Carolina and Indiana with state-of-the-art pollution controls, and two more plants to be fueled by cleaner-burning natural gas. The company's projections show emissions sharply lower in pollutants that form ozone, haze and other air-quality problems by 2017.
All of the activists arrested today were from North Carolina, including three from Charlotte, and the protest took place outside the headquarters as Duke employees were arriving for work.
"We're sending a message to Jim Rogers: stop raising our rates," handcuffed protester Monica Embrey of Charlotte told the Observer as she was placed into the back of the Charlotte-Mecklenburg Police Department's prisoner transport van.
Embrey, 24, said she and the others who were arrested were protesting the fact that Duke Energy doesn't use more environmentally friendly energy production methods.
"It's a rate increase for dirty energy," she said. "It's a rate increase for thousands of asthma attacks a year."
Wednesday's protest follows a Greenpeace protest on top of the 400-foot stack of Progress Energy's Asheville coal plant earlier this week.