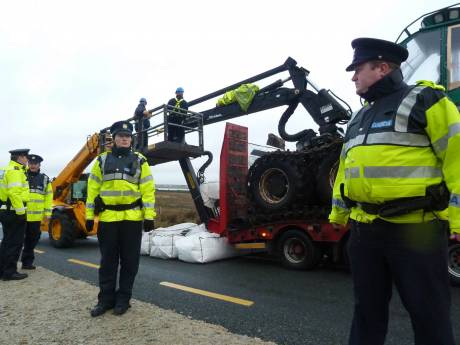 Activists with Shell to Sea rolled out their first wave of actions in the new year to disrupt construction of Shell's natural gas pipeline in Mayo County, Ireland. The action started on January 7 with protestors waiting along the highway used to access the construction site. As trucks carrying gravel approached, the activist jumped in front of them to stop them. This was done several times until enough police arrived on the scene to arrest 3 of the protestors.
The following day activists were able to intercept a specialized tree cutting machine being used to clear the route for the pipeline. One person was able to climb on top of the machine and lock himself to it. It took three and a half hours for the cops to cut him free, all the while the entire road was blocked which prevented other construction equipment from getting to the site!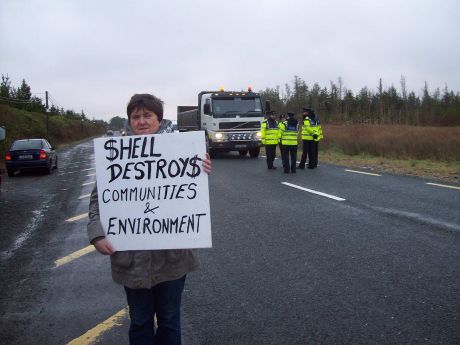 Commenting on the latest protests, Rossport Solidarity Camp spokesperson Con Coughlan stated, "This is the first disruption to Shell's plans to lay the onshore pipeline this year but it most certainly won't be the last. We call on everyone who is sick of the way that our democracy has been taken away from us because of unchecked corporate power, to come and support this community in their struggle to have a say what happens in their area."
The pipeline is part of the Corrib Gas Project which seeks to bring gas from offshore wells to a refinery 9km inland. The pipeline route cuts through the community of Rossport where there is widespread opposition to the project. Direct action resistance to the pipeline construction began in 2005.
Rossport Solidarity Camp is calling for support in advance of this coming Friday the 13th of January. Friday is the first Day of Solidarity of the new year, when people from around Ireland are invited to join the protests for a day to show their support for the ongoing resistance to the Corrib Gas Project.
for more info check out: http://www.shelltosea.com