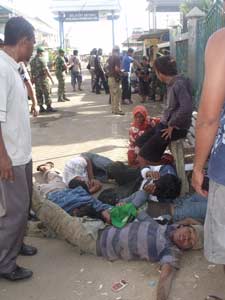 Two protesters have been killed and 10 others injured during a raucous protest over a planned goldmine, co-owned by an Australian company, in eastern Indonesia.
The victims were among nearly 1000 people in Lambu village in West Nusatenggara province trying to stop the goldmining project by Australia's Arc Exploration and its Indonesian partner, PT Sumber Mineral Nusantara.
The villagers fear the project will destroy their land and threaten forests and water resources.
National police spokesman Major-General Saud Usman Nasution says police were forced to fire on Saturday's protest after demonstrators burnt down dozens of government buildings, banks and homes.
Nasution said that police arrested 47 people involved in the protest, which disrupted port and ferry services in the coastal town of Sape.
Police defended their use of force on Sunday after the deaths of two men they shot while trying to disband a mob occupying the Sape port on Sumbawa island who were protesting a local mine.
"The protest by occupying and prohibiting activities at the Sape ferry harbor since December 20 disturbed the activities of society," National Police spokesman Insp. Gen Saud Usman said.
Police said the absence of ferry services had caused unrest among the people, prompting law enforcement to act. Saud also accused the protestors of "using women and children as shields" and refusing to negotiate.
Three "provocateurs" were arrested along with 44 others, including six children, for questioning. Saud said police had confiscated 10 machetes, four sickles, one spear and several fuel bombs from the protestors.
He identified those killed as Arief Rachman, 18, and Syaiful,17. Eleven others were wounded.
Lahmuddin from the National Student League for Democracy said people angered by reports of the shooting attacked and burned several buildings including village halls, subdistrict offices and the houses of several people known to work for the mining firm they were protesting against, Sumber Mineral Nusantara.
National Police assistant for operations Insp. Gen. Badrodin Haiti justified the shooting, saying the protesters were armed with machetes, spears and knives.
"If a protest clearly runs against the law by trying to enforce a wish, should it be allowed to happen?" Badrodin said, adding that the port was crucial to the local economy. "We tried to persuade them [to disband] but failed. I am not blaming the personnel in the field."
He insisted the shots had not been aimed to kill. "The personnel, of course, never had the intention to kill anyone," he said.
Hundreds of students held rallies in Mataram and Bima, West Nusa Tenggara, burning furniture they had removed from the district council building. The district council accused police of "arrogance" and vowed to form a fact-finding team.
Several religion-based student organizations issued a joint statement on Sunday accusing the police of failing in their reforms and of being "repressive."