By Scott Sonner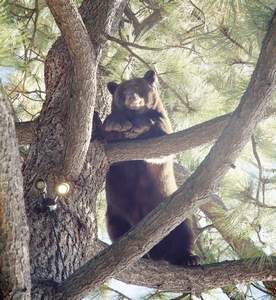 A gun safety instructor who bagged the first bear killed in Nevada' first-ever bear hunting season admitted on Monday he did so illegally with the help of bait.
Timothy Kawelmacher, 55, pleaded guilty to two misdemeanor counts of unlawfully baiting a trap for the purpose of killing a big game animal. He was ordered to return the bear meat, hide, head and claws.
Judge Jack Schroeder also ordered him to pay a $500 civil penalty and $230 in additional fines and fees. He gave Kawelmacher two weeks to turn the bear's remains over to state wildlife officials: "All the way from the toe nails to the snout," he said.
Kawelmacher had faced a maximum penalty of up to a year in jail and fines and fees totaling as much as $3,000.
The Reno businessman and certified firearm safety instructor, who said he has trained thousands of gun owners in Washoe County over the years, originally pleaded not guilty. He said he misunderstood the law.
"I have hunted responsibly my entire life," Kawelmacher said. "It is not my nature to skirt, disobey or find ways around the law."
"The very thought I handled my bear hunt in any way that was considered illegal is irreprehensible," he said, adding that the reason he hunts for bear, mule deer and elk is for "the very best all-natural meat on the planet."
Kawelmacher said he baited an area in the Sierra foothills just west of Reno in August with apples, bacon grease and anise oil –which smells like licorice — while scouting for bears in the weeks leading up to the Aug. 20 opening of the black bear hunting season. Kawelmacher told the judge he didn't realize at the time that made it illegal for him to later kill one.