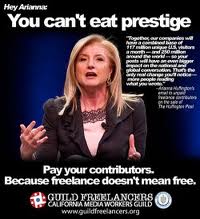 Since last March there has been a call for online news sources and blogs to boycott the Huffington Post by not re-posting links to their stories. The boycott resulted from a $315 million deal to sell the site to AOL with nothing going to the writers who built the site to what it is.
At the Allied Media Conference this summer, Earth First! Journal editors learned of the boycott and decided the Earth First! Newswire will no longer be using the Huffington Post as a news source, unless there is some resolution to the dispute deemed acceptable to the writers.
Find out more from the National Writers' Union/UAW local 1981 about What's up With the Boycott of the Huffington Post?
Eat the rich.