from Earth First! UK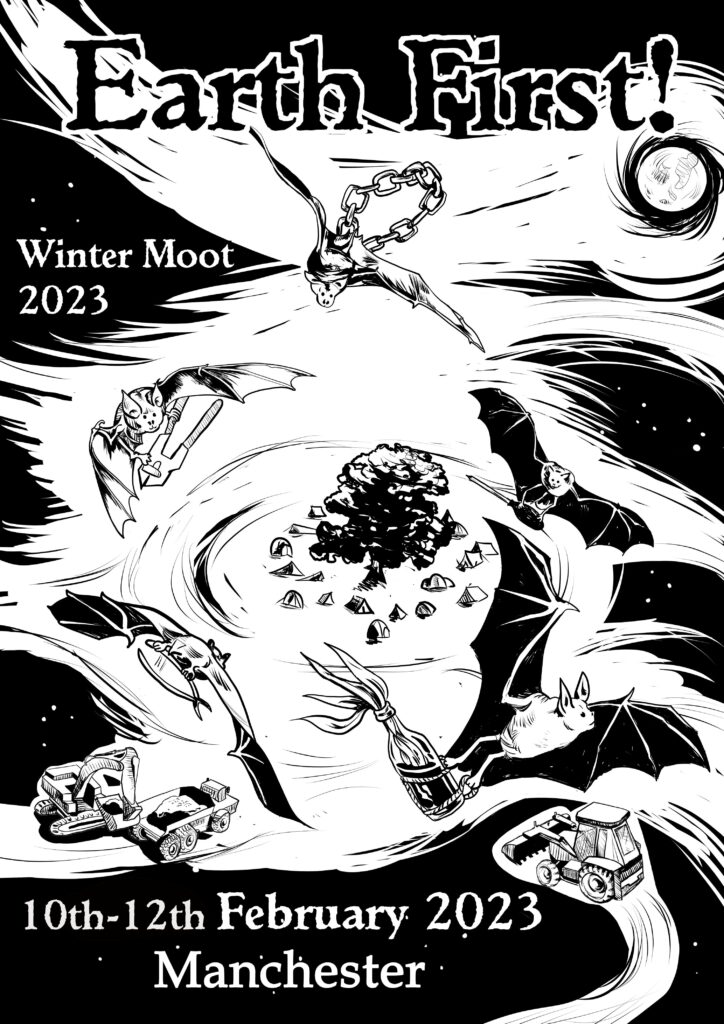 You are warmly invited to join us at the 2023 Earth First! winter moot!
What on (middle) earth is a moot?!? The moot is a chance to get together during the cold winter months to warm our hearts and put fire in our bellies. It's a time to reflect on what's going on in the radical ecological movement and make plans for the year ahead. There will be workshops, tasty vegan food, some music and dancing, and very likely shit homebrew cider
For new comers and old timers alike, it's a space for anyone committed to taking action to defend nature. Join us!
The moot will take place in Manchester from 10-12 February. Everyone welcome from 4pm (get in touch if you want to come earlier to help set up), workshops start at 5pm. The last workshop will end at 5pm on Sunday. The workshop venue will be inside, heated. Workshops will cover everything from abolitionism, green anarchy, coal and much more!
The exact location (in Manchester) will be announced that morning. It will be fuuuuuuun!
We will have a kids space and a vegan kitchen. Questions? Email us at earthfirstuk[at]riseup.net
Bring your friends (can you fill up a mini bus?), and come up for a weekend of joy and green anarchy!
To protect each other, and especially those more vulnerable, please do a Covid test before coming up to Manchester. We will have some at the welcome desk too.
Love and rage!