from Anarchist News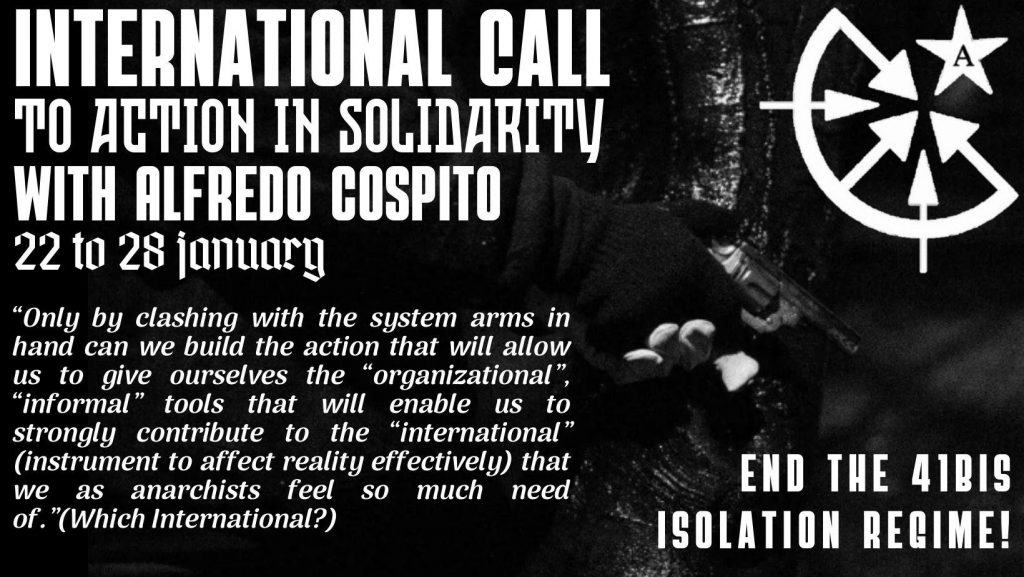 We extend the call for an international campaign in solidarity with comrade Alfredo Cospito during the week of January 22-28. More than 80 days after the beginning of his hunger strike against the 41 bis regime, it is urgent for us to deepen and multiply the gestures of internationalist solidarity and to deploy all our forces against all expressions of domination. We hope that this initiative can be translated and disseminated to all anti-authoritarian comrades throughout the world. We also hope that this campaign will go beyond the walls that isolate comrade Alfredo and that he will feel all our solidarity and complicity in war. LET'S NOT LEAVE ALFREDO ALONE!
END TO THE REGIME 41 BIS!
FREEDOM TO ALFREDO COSPITO!
LONG LIVE THE BLACK INTERNATIONAL!
DEATH TO THE STATE & LONG LIVE ANARCHY!