from Truthout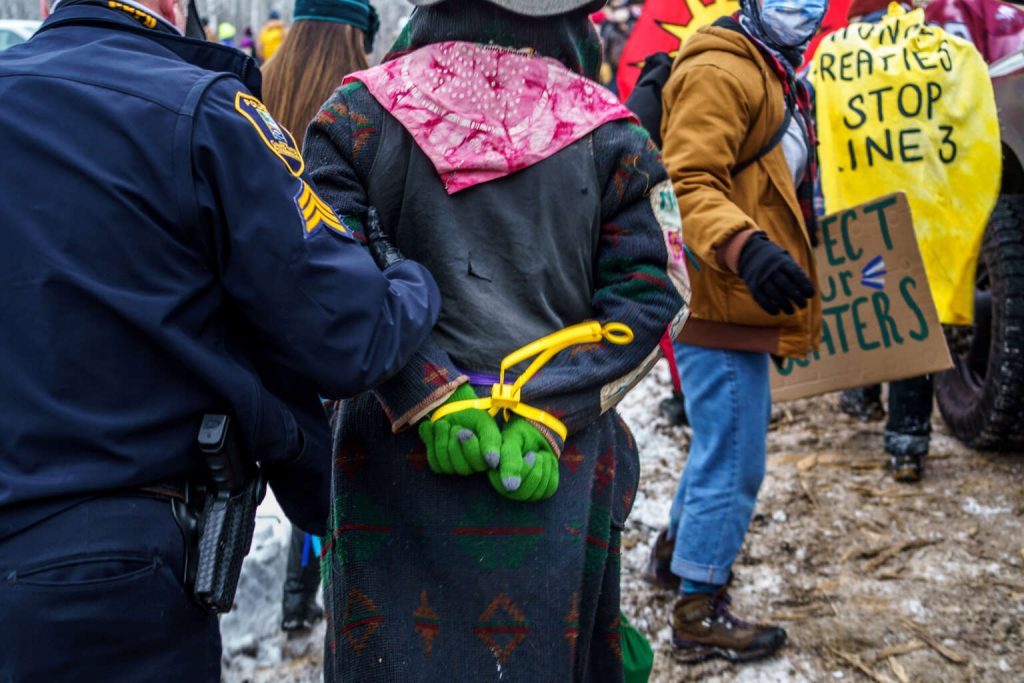 From late 2019 through 2021, at least 115 Water Protectors were arrested in Aitkin County, Minnesota (population 15,800) for their resistance to Enbridge Inc.'s Line 3 tar sands pipeline. Today, 50 defendants continue to face charges, according to Marla Marcum of the Climate Disobedience Center, which has been tracking cases and offering support to defendants. Open cases include seven social media-based prosecutions including of Winona LaDuke, co-founder of the Native advocacy organization Honor the Earth, and Tara Houska, an administrator of the Giniw Collective. These cases, which reference social media activity in charging documents, have produced trumped-up charges ranging from "harassment of law enforcement" for yelling to charges that derive from Minnesota's 2002 Anti-Terrorism Act, which was passed in response to the September 11 attacks.
"When Minnesota and other states passed Anti-Terrorism laws in the wake of 9/11, we were deeply concerned that they would be used to stifle protest and dissent. That's clearly what is happening in this case," Sue Udry, executive director of Defending Rights & Dissent, told Truthout. "The fact that a law meant to arm law enforcement and prosecutors with the tools to 'ensure that terrorists who commit atrocities in our state are brought to justice and receive maximum punishment to match their dastardly crimes,' has been deployed against protesters engaged in civil disobedience is dangerous, and disingenuous," she continued.
Other open cases include felony "aiding attempted suicide" charges that defense motions have characterized as a "misinterpretation of the law" by the Aitkin County Attorney's Office, warning that the cases could set broadly harmful precedents for protest rights.
Writing in response to Aitkin County Atorney James Ratz's pursuit of aiding attempted suicide charges against protesters who crawled into a segment of non-functioning pipeline, defense attorney Jordan Kushner argued:
Under the state's misinterpretation of the law, any protester who climbs and remains in a tree where they are in potential danger of falling down, attaches themselves to a construction vehicle where they could potentially be subject to an accident, sits on a roadway where they could potentially be run over, or engages in any action that places them in potential danger, or helps someone else commit such actions, could be accused of aiding an attempted suicide.

In total, the remaining 50 defendants face a total of six felonies, 28 gross misdemeanors and 115 misdemeanors, according to a Truthout analysis.
"Cases Have Just Totally Stalled"
Defense attorneys are now raising alarm about delays in the Water Protector cases in Aitkin.Defense attorney Kira Kelley told Truthout that "in the past three months Water Protector cases have just totally stalled." Some defendants have been waiting for hearings since June and July.
A Truthout analysis shows that Water Protectors in Aitkin County face a longer court process compared to conventional criminal defendants in the county. The analysis examined all criminal cases filed in Aitkin over the first five months of 2021. During the five-month period, charges were filed against 61 Water Protectors, 38 of which, or 62.3 percent, remain open. This compares to 202 conventional criminal cases, of which only 18, or 8.9 percent, remain open. That means Water Protector cases from January-May 2021 are seven times more likely to remain unresolved, compared to non-Water Protector cases. (This analysis excludes 14 "dormant" cases, including one "dormant" Water Protector case.)
When cases are dragged out, defendants remain in a state of limbo for longer, where they can be stigmatized as criminal defendants by employment, housing and educational institutions. A delayed case extends the time defendants must adhere to bail conditions and be available to appear in court. Bail conditions have barred defendants from attending public hearings about Enbridge-owned infrastructure and meant that if they got arrested again or entered an "Enbridge Exclusion Zone," their bail could be revoked leading to their incarceration and/or they could be charged with additional crimes.
These revelations exacerbate worries that Water Protectors are not receiving equal due process in the county, given the existence of a scheme that saw the Aitkin County Sheriff's Office receive $355,393 of direct funding from Enbridge Inc. for things like crowd control materials and time spent policing Water Protectors who opposed the company's pipeline, which was completed in September 2021. Defense attorney motions argue the arrangement amounts to third-party influence on law enforcement, something prohibited by the due process doctrine.
This also follows revelations that the Aitkin County Attorney's Office supported the County Sheriff Daniel Guida's pursuit of criminal charges against defense attorneys who sought to compel Guida to testify under oath about the financial arrangement.
Is the Court Letting the Prosecutor Run the Show?
Prosecutions in the county have stalled, in part due to what defense attorneys describe as a "breakdown in the separation of powers" between the county attorney (executive branch) and the court system (judicial branch).
Defense attorneys told Truthout that court clerks and judges in the county have allowed the county attorney to dictate hearing schedules, resulting in significant delays in the cases, according to defense attorneys and court records.
"I have never had a clerk reach out to me from Aitkin to see when I am available," Claire Glenn, an attorney with the Water Protector Legal Collective and the Civil Liberties Defense Center, told Truthout, referring to the standard practice that sees courts coordinate equally with defense attorneys and prosecutors when scheduling court dates. "It's bizarre that clerks feel so beholden to the prosecutor, even after months of not receiving a response. The courts' clerks are acting like the prosecutor's secretary rather than an independent arbiter who the prosecutor should be deferring to," Glenn continued.
In one case involving felony and gross misdemeanor charges, court transcripts obtained from the county by Truthout show that on November 10, 2022, prosecutors used an unprecedented argument to justify court delays.
In the hearing, assistant prosecutor Sarah Winge told the court that hearings had been delayed due to county attorney Ratz's "contested" election campaign.
The judge had never heard such an argument. "I have been involved in the criminal justice system for about 50 years," said Judge John DeSanto. "The prosecutor's office shall be conducting its duties and obligations regardless of elections."
During the hearing, Glenn expressed concern that "there are so many Water Protector cases that are just languishing at this point."
"We know that [Aitkin County Attorney] Ratz didn't want to litigate these cases when there was an election pending, whatever the reason, and has just refused to respond to the clerks' emails to schedule hearings," Glenn told Truthout.
Glenn later told Truthout that the clerk informed her in early December that the County Attorney's Office "finally" responded to the court's questions about their schedule. But that doesn't explain why the court clerks (the judicial branch) are not consulting defense attorneys and prosecutors equally. "It's a breakdown in the separation of powers," Kelley told Truthout.
Ratz and the Aitkin County court administrator have not responded to email inquiries.
Defense Attorneys Intimidated and Sidelined
Along with "languishing" Water Protector cases and the "breakdown in the separation of powers," defense attorneys are still adjusting to Ratz's complicity in apparent intimidation by Sheriff Guida. A motion by Kelley details how Guida refused a subpoena to testify under oath. That represents a "breakdown in the rule of law," as it's the job of the sheriff to enforce subpoenas. Not only this, Guida and Ratz sought trespassing charges against the attorneys — Kelley and Sandra Freeman — after they tried to serve Guida with the subpoena outside his home.
In a November motion, filed on behalf of Winona LaDuke, Glenn wrote to the court — in response to the prosecutor's pursuit of criminal charges against Water Protector defense attorneys Kelley and Freeman — saying:
Mr. Ratz's conduct adds a new dimension to the disturbing nature of this entire incident. Mr. Ratz is himself a Minnesota-barred attorney, apparently failed to recognize any problem with Sheriff Guida's misconduct. Not only that, he doubled-down on Sheriff Guida's misconduct by referring Attorneys Kelley and Freeman for prosecution.
Along with the apparent preferential treatment given to prosecutors when scheduling cases, attorneys representing Water Protectors in Aitkin County are facing the specter of their own criminal prosecution for pursuing subpoenas.
"It is no exaggeration that criminalizing members of the bar who represent the accused simply for doing our jobs heralds a total breakdown of the rule of law," Glenn wrote. Her motion also drew attention to the existence of a "file" about the incident that includes multiple "reports" — which the county attorney has refused to hand over.
The attorneys are dealing with all these dynamics while simultaneously defending Water Protectors from egregious legal theories.
Little Prospect for Justice
During the November 10, 2022, hearing, Judge DeSanto said he would take no further action to speed up the court process — unless the defendant filed a motion for a speedy trial, which would initiate a 90-day countdown for trial.
However, with grossly exaggerated charges hanging over them, heading to trial may be a false choice for the Water Protectors, since defendants want cases dropped, not taken to a trial that risks years in prison.