from Anarchist Federation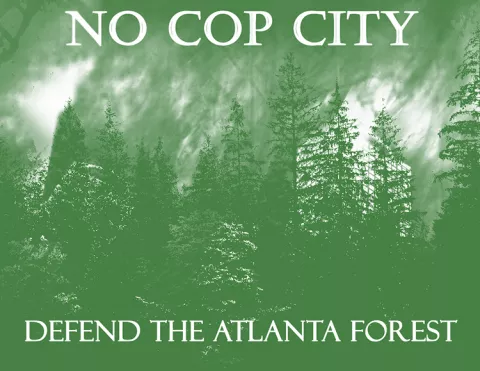 The militant actions around the US in solidarity with the Atlanta Forest defense continues with recent attacks in Alabama against the Brasfield & Gorrie Corporate HQ and in Albany, NY against ATLAS.
Brasfield & Gorrie Corporate HQ in Alabama Attacked
On the morning of the 13th, the windows and glass doors to the Brasfield & Gorrie Corporate HQ at 3021 7th Ave S, Birmingham, AL 35233 were smashed. The words "Drop Cop City or Else" were spraypainted on the windows. Paint was applied to the front sign. Let it serve as a warning to the executives at Brasfield & Gorrie; we know where you sleep. Your houses could be next. Keith Johnson, Miller Gorrie, James Gorrie, you will drop this contract eventually, why wait to see how far we will go?
– In solidarity with the struggle in Atlanta
-Received anonymously over email
From: Scenes from the Atlanta Forest
ATLAS office windows smashed, vandalism in Albany NY
On the evening of may 10th, I smashed 7 windows at the office building where the northeast offices of ATLAS are located in Albany, NY. I also tagged "ATLAS – STOP DESTROYING THE ATLANTA FOREST." Destroying hundreds of acres of forest during the 6th greatest mass extinction of species to build a police training facility following one of the largest anti-police uprisings in decades is fucking disgusting. With this vandalism I urge ATLAS to do the right thing and drop any contracts with Brasfield and Gorrie and the Cop City project.
-some anarchist-
-Received anonymously over email