from Scenes from the Atlanta Forest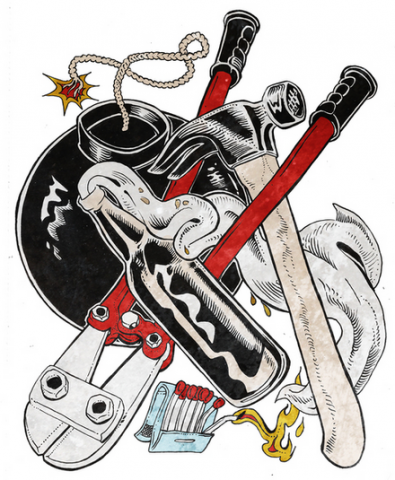 EARLY MONDAY MORNING A HOME ASSOCIATED WITH DODD DRILLING, LLC WAS PAINTED WITH SLOGANS INCLUDING "DODD DRILLING STAY OUT", "STOP COP CITY", AND "DROP APD" TO THE DODD DRILLING JERK: LAST MONDAY, A BULLDOZER WITH YOUR LOGO FORCED ITS WAY INTO WEELAUNEE FOREST AND LEFT A 100-FT TRAIL OF DESTRUCTION IN ITS WAKE. FOREST DEFENDERS RESPONDED QUICKLY WITH ROCKS AND RAGE, BUT SOME DAMAGE WAS ALREADY DONE. DESPITE HAVING NO PERMIT, YOU ALLOWED ATLANTA POLICE TO USE YOUR EQUIPMENT TO INTIMIDATE AND INJURE THE FOREST AND ITS RESIDENTS. TODAY, YOU KNOW WHAT IT'S LIKE TO HAVE YOUR SPACE INVADED. YOU CAME TO OUR HOME SO WE CAME TO YOURS. ALL FORESTS ARE CONNECTED–YOUR PRIVATE PROPERTY IS NOT AS PRIVATE AS YOU MAY THINK. WE DEMAND YOU STAY OUT OF WEELAUNEE FOREST AND STOP WORKING WITH ATLANTA POLICE AND COP CITY CONTRACTORS. TO ALL OTHERS WHO WOULD SUPPORT COP CITY: IT MIGHT HAVE MORE COSTS THAN YOU ANTICIPATE, FINANCIAL AND OTHERWISE. MANY CREATURES CARE DEEPLY ABOUT THIS FOREST AND ARE PREPARED TO DEFEND IT. ANY PARTNER OF THE APD OR CONTRACTOR FOR COP CITY IS OUR ENEMY AND POTENTIAL TARGET.
TO OTHER INTERESTED PARTIES: THE PRINCIPAL ADDRESS OF DODD DRILLING, LLC IS A SUBURBAN HOME IN A CUL DE SAC LOCATED AT 64 TIMBER WALK DAWSONVILLE, GA 30534. THE BACKYARD INCLUDES A LOVELY FOREST WHICH IS EASY TO VISIT. THE WEELAUNEE FOREST IS NOT DYING; IT IS BEING KILLED AND THOSE WHO ARE KILLING IT HAVE NAMES AND ADDRESSES.
A LIST OF LOCAL ATLANTA EVIL-DOERS IS AVAILABLE AT STOPREEVESYOUNG.COM.
~SOME SEXXII FOREST FAIRIES
-Recieved Anonymously Over Email