sent to Earth First! Newswire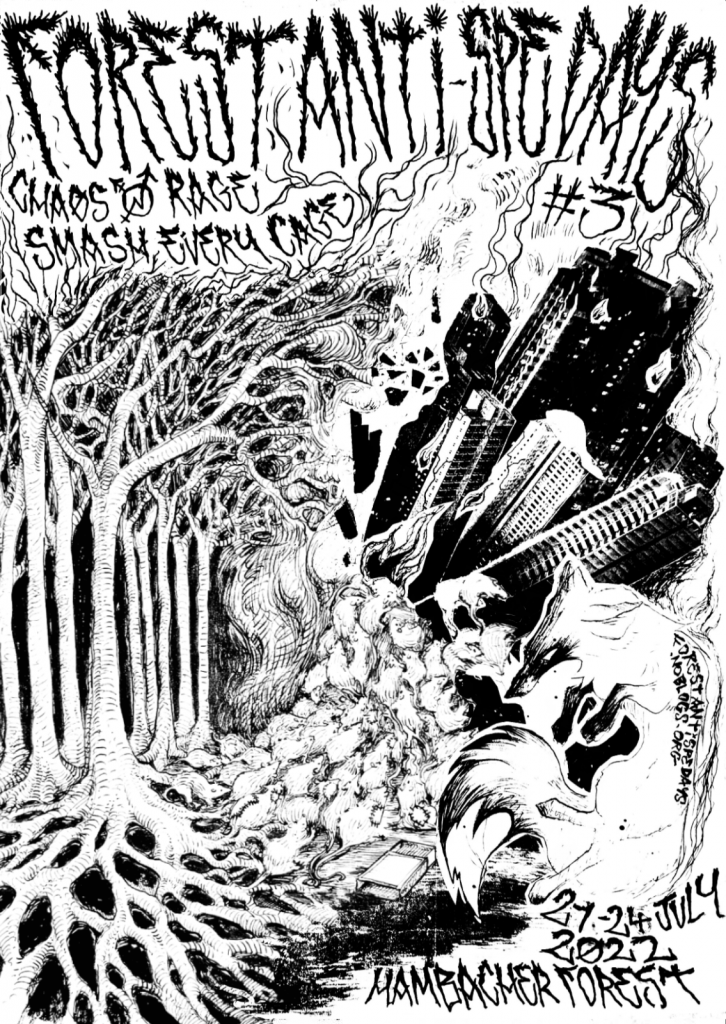 BORDERLESS CALL: JOIN US IN THE HAMBACHER FOREST FOR A GATHERING FOR ANIMAL LIBERATION!
In the factory farms and vivisection labs, our nonhuman comrades are already fighting back. The time is ripe – let's share skills and perspectives on how to support their resistance! By "anti-speciesism" we don't mean online activism, vegan capitalism or cop-hugging pacifism – we're opening a space to plot against human supremacism, and we've no need for bureaucratic organizations of any kind.
Many animal rights groups have become a hotbed for fascist/homophobic/cissexist/macho/white supremacist/colonialist views and behaviour. Others promote liberalism, the state or single out human activists as animal "saviours". We want to build on two years of anti-spe days explicitly pushing against these tendencies, uncompromising in our rejection of all forms of oppression and domestication. Let's meet each other and make some trouble!
You can find us again in the Hambacher Forest, one of Europe's largest autonomous spaces, still squatted after 10 years. (It's a forest so be ready to camp).
We want the workshops to be more horizontal this year – you can help us by proposing your own! Some ideas we have so far:
– First aid/veterinary care for other animals
– Action planning/scouting
– Hunt sabotage
– Tech workshop
– Sharing international struggles
– Anti-civilisation anarchy + anti-speciesism
– Animal liberation + chaos
– Open discussion on abolishing pets
– Graffiti skillshare
– Self-defence
– Action climbing
– Movie night
– Theater performance (!?)
– Open mike night
Pack a sleeping bag – and coffee and peanut butter if you got it! Make it here however you can and see you in July! More workshops/other info to be announced over next while. And be in touch if we can answer questions or otherwise help. Make trouble + have fun (;
FASD
forestantispedays[at]riseup[dot]net