from Abolition Media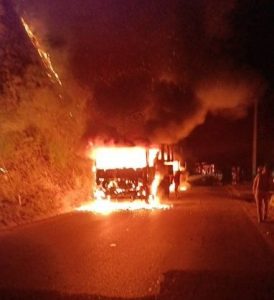 30.03.2022: On Wednesday night, three lumber trucks were completely set on fire between Lumaco and Capitán Pastene, in the southwest of Malleco, in the Araucanía region.
The events occurred when at around 22:00 hours, three lumber truck drivers were travelling along route 90P that connects Lumaco with Capitan Pastene, when they were approached by seven Mapuche militants carrying long firearms, such as shotguns and derivatives.
The Mapuche militants intimidated the carabineros and forced them to get off and then set fire to the three vehicles.
A banner in support of the Mapuche cause was left by the torched vehicles.
After 10:00 a.m. on Tuesday, the massive departure of military forces from La Araucanía began following the end of the state of emergency in the area.
Modified from translation of corporate news article, originally published on Raddle.