By Jeff Barnard / The Associated Press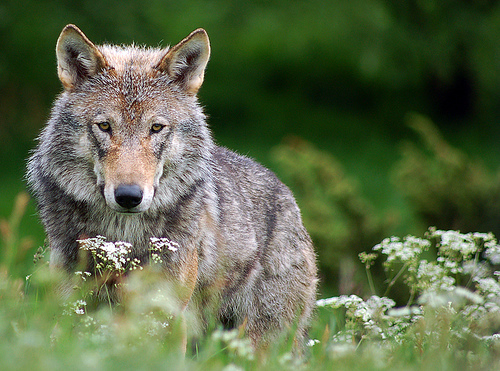 A wandering Oregon wolf that has been out looking for love has gotten the cold shoulder from people in one Northern California county.
Citing fears that if wolves move into the area they will attack cattle, Tehama County supervisors have told the California Fish and Game Commission that they oppose putting the predators on the state's endangered species list.
The county officials said in a letter this week that "experience in other states suggests that control of wolf populations will become difficult if not impossible" if wolves are listed as endangered because protection efforts are "not based on scientific evidence, but rather on ethical and moral concerns."
Supervisor Ron Warner said a public meeting on wolves hosted by a conservation group drew as big a crowd as when the county imposed restrictions on medical marijuana.
"The cattlemen were really up arms," he said. "These people are adamant about the fact they don't want the wolf reintroduced down here. We've got a big enough fight going on with the mountain lions."
The wolf known as OR-7 has been roaming Northern California looking for a mate and a new territory since last winter, when he became the first of his species in the state in more than 80 years.
His travels have been tracked by a GPS collar that reports his location several times a day. OR-7 has not been linked to any attacks on livestock, though he has apparently fed on a pile of beef bones left out by a rancher.
Most recently he has been roaming a rugged high-altitude region marked by dense forests, lakes and open meadows on public lands between Butte and Plumas counties, roughly halfway between Sacramento and the Oregon border, said Karen Kovacs, regional wildlife program manager for the California Department of Fish and Game. He has made brief forays into neighboring Tehama County.
"He is still exhibiting a fair amount of daily movement, which suggests to us he is in good health, and finding enough to eat," Kovacs said.
Noah Greenwald of the Center for Biological Diversity said they want a state endangered species listing in case federal Endangered Species Act protections are dropped. They also want to see a plan developed to assure wolves return to healthy populations in California, where they were wiped out more than 80 years ago to protect livestock.
The California Department of Fish and Game is to report to the commission during its Aug. 8-9 meeting in Ventura on whether protecting the wolf is warranted.
A public hearing on the question is scheduled for the commission's Oct. 3-4 meeting in Sacramento.