by Michelle Macaluso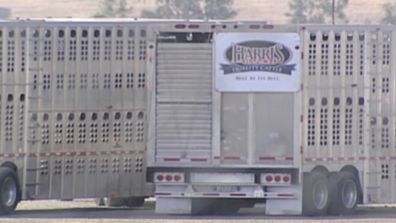 Animal rights activists are taking credit for setting fire to and destroying 14 cattle trucks at California's largest beef producing, feeding and marketing ranches.
The North American Animal Liberation press office posted an anonymous letter on its website from activists claiming full responsibility for the arson.
"We were extremely pleased to see that all 14 trucks 'were a total loss,' with some being 'completely melted to the ground,'" the statement reads.
Mike Casey, vice president of Risk Management and Human Resources for Harris Farms, is confident that authorities will find the culprits.
"Those going out there and claiming responsibility, if the claims are true, we condemn these actions and those responsible will be brought to justice for what they did," Casey said.
The statement described in detail how they were able to carry out the arson.
"[C]ontainers of accelerant were placed beneath a row of 14 trucks with [four] digital timers used to light [four] of the containers and kerosene-soaked rope carrying the fire to the other [10]."
Casey arrived at the scene 45 minutes after the fire had started at about 4 a.m. on Sunday morning. By the time he arrived, the fire department had doused the flames and the equipment was destroyed.
"They either know what they were doing or we're extremely lucky. If it is an organized effort or random act of violence, it is troubling and senseless. It does not affect our business, and this is a noneffective way to make their voice heard," Casey said.
But the activist group believes their actions are justified.
"We're not delusional enough to believe that this action will shut down the [H]arris feeding company, let alone have any effect on factory farming as a whole. [B]ut we maintain that this type of action still has worth," the statement reads.
While the Animal Liberation Front is not claiming direct responsibility for the fire, the organization provides a platform on their website for animal rights activists.