By Rick Leventhal, AP
Wildlife officials estimate that 200 bears were killed Monday on the first day of the state's black bear hunt.
State officials have said the six-day hunt is needed to reduce the state's bruin population, now estimated at about 3,400. But critics say the state's bear management policy is flawed and was developed arbitrarily.
Animal advocates had gone to court to block the hunt, but they were rebuffed Thursday by a state appellate court. They spent part of Monday securing permission to demonstrate at various bear check stations.
More than 6,400 permits were issued, allowing hunters to patrol 1,000 square miles of northern New Jersey, which, according to officials, has one of the densest black bear populations in the nation. The state Department of Environmental Protection's Division of Fish and Wildlife is supervising the hunt, saying its goal is to stabilize and reduce the bear population to minimize conflicts and bear/human interactions.
Opponents call it murder and a crime against nature.
"A bear hunt doesn't solve nuisance complaints, a bear hunt doesn't protect property, a bear hunt doesn't protect public safety and the bear hunt will not reduce the population," says Angie Metler, the spokesperson for the Bear Education and Resource Group.
Another opponent, Susan Kehoe, calls the bears "beautiful animals" and claims a mother once left her with cubs in her care.
"It is sad," Susan says, "especially when there is no need for a hunt. It is just a trophy hunt. It is not about bear population, it is not about safety, it is a trophy hunt. They are not dangerous."
The state says otherwise, calling it a "comprehensive, science fact-based response to the large black bear population and increase in public complaints about bear and human encounters."
The hunt lasts through Saturday with strict rules. Permits must be applied for in advance, along with tags that must be purchased and applied to any animal that is killed. There are rules about weapons, ammo, and the transportation of the bears, which must be brought to one of four check-in stations the day they're killed. The animals are weighed by state agents who also take skin and blood samples and a tooth before releasing the carcass to the hunters.
Robert Melber, a welder and Arizona native temporarily living in Pennsylvania, brought in the first bear on the first day of the hunt to the Pequest Check-in Station — a 166.5 pound female. He's bagged deer before, but never shot a bear. He says it only took 30 minutes before "she walked right into me, ran right into me."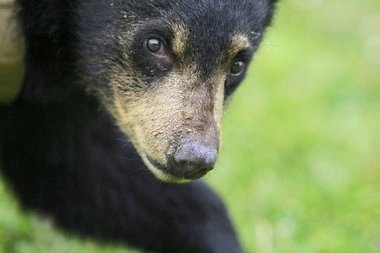 When asked what he did, he says, "I shot it while it was running. It all happened pretty quick and it was all over pretty quick."
"You gotta keep your animals to a certain number," he says. "No ands, ifs or buts about that. And there's a lot of bears in New Jersey." 
Dr. Larry Rudolph with Safari Club International is one of the hunters who fought animal rights activists in court.
"The anti-hunting groups have a word they describe, they want to have bear aversion training," Rudolph says. "Somehow, they think these animals aren't wild animals but circus animals to be trained to avoid humans. That's not logical and that's not possible."
"Bears can definitely be a danger in New Jersey this year," Rudolph continues. "New Jersey's Department of Environmental Protection cited almost 3,000 instances where there was human bear interface, with 46 of those involving bears actually entering into a residential home. I don't think you want to come home and find a black bear in your kitchen, when you are ready to make dinner."
Animal rights groups say they will continue to protest the hunt every day this week. The state expects roughly 600 bears will be harvested by the time the hunt ends.