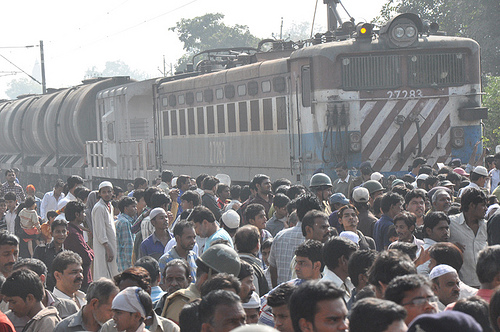 To mark the anniversary, thousands gathered in Bhopal to call on the Indian government to boycott the 2012 Olympic Games in London because Dow Chemical is an official sponsor. Activists also blocked railway tracks to protest the ongoing denial of compensation payments to victims despite a $148 million plan unveiled earlier this year.
The "Rail Roko" [railway blockade] was organized at four points from Nishatpura to Barkhedi railway crossing in the city which was otherwise peaceful as the survivors squatted and laid on the tracks. However, at Barkhedi crossing near Aishbagh Stadium police first snatched the mike of the public address system fitted in an auto-rickshaw, which was being used by survivors to make announcements about maintaining peace. Thereafter, the policemen started to drag away elderly female survivors in order to clear the railroad and cane-charged them mercilessly.
Seeing this the youth among the protestors became wild and took to stone pelting immediately and indulged in arson. While the road metal (80 mm stones) lying in abundance on the rail tracks came handy for the youth to shower the police with it which had to make a tactical retreat. Bhopal District Collector Nikunj Shrivastava and City Superintendent of Police (CSP) HN Guru were injured in the heavy stone pelting. In the melee that ensued four police vehicles and a number of two wheelers were torched by the protestors to express their ire. A police jeep and an OB van of ETV news channel were also damaged in the stone pelting.
The "Rail Roko" stir was called off after the representatives of the five NGOs met the Madhya Pradesh Chief Minister who reportedly conceded to all their demands including submission of correct figures of deaths and injuries in the gas disaster in the curative petition in the Supreme Court.
The CM said he would write to Prime Minister Manmohan Singh, supporting the survivors' demands.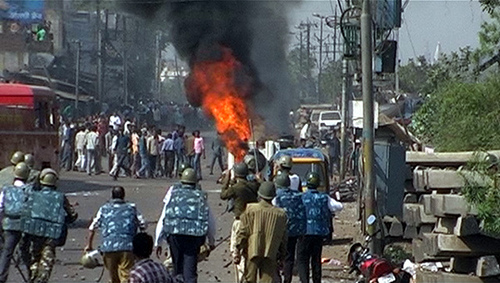 Balkrishna Namdeo of Bhopal Gas Peedit Nirashrit Pension Bhogi Sangharsh Morcha said: "We have given January 3, 2012 deadline to the chief minister to give correct figures before the Supreme Court or else survivors would again stop trains".
Read this headline at Democracy Now, here
Read full article from Two Circles, here