Marcellus Protest: November 18, 2011 at Penn State University in State College, PA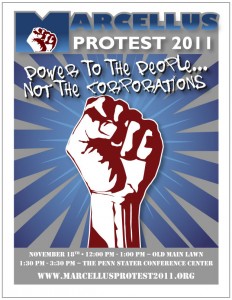 "This is our last chance in 2011 for a large outdoor protest rally in front of the natural gas industry. Rallies in Harrisburg, Pittsburgh and Philly have set the stage for this growing movement.
If you think it is important that this movement continues to move forward with ever-growing numbers, please plan to attend. Commit to bringing 10 others with you. Commit to getting out the word to as many as possible.
You can download a poster for the event and keep up with the latest news on the rally on the website HERE.
Most importantly, plan to attend the rally and let our politicians and the natural gas industry know we are out there and our ranks continue to grow. If your organization would like to be included with the growing list of participating organizations, please send an email to the address below and include a link to your website...
Thanks, and we look forward to seeing you on November 18th."
Marcellus Protest 2011: "Power To The People, Not The Corporations"
As Calvin Tillman would say: "Those who say it can not be done, should get out of the way of those that are doing it."