Ellen Peterson, 87, of Estero, Florida passed away on October 14th, 2011. She was a supporter of Earth First!, lending us spiritual support as well as the use of her land for our camps and roadshows. Ellen is a spiritual and political mother of Everglades Earth First!
She was fierce advocate for wilderness.
Along with others, Ellen was personally responsible for saving one of the most beautiful places in all of Florida, Fisheating Creek. She has stood as a guardian of Florida's waterways.
Ellen fought to save the Florida panther, heritage trees, and many other listed and endangered species. She succeeded in obtaining outstanding Florida waterways designations for many of our local rivers and streams, providing them higher levels of protection. With the help of several environmental groups, Ellen fought and won the battle to stop a coal-fired power plant from going into Glades County.

She protested and picketed against nuclear plants and was arrested for civil disobedience. She created a presentation to save the Imperial River and was successful in preventing the Water Management District from eliminating the oxbows, an action which could have destroyed much of the river, such as killing off fish hatcheries during flood events. 
Ellen herself was threatened on many occasions, and at least one attempt was made on her life. Even so she pressed forward and continued her good works. She continually fought to protect several of our local beaches and islands. With the backing of several local environmental groups, Ellen filed suit against the developers who wanted to overbuild and destroy our density-reduction ground water resource area. She was responsible for involving a scientist whom Lee County would later hire to do water quality testing. This scientist discovered that our red tides were directly linked to the releases from the Caloosahatchee River and Lake Okeechobee.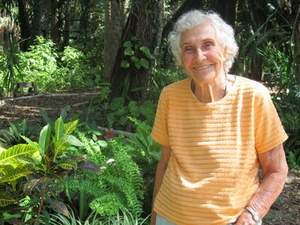 Ellen Peterson was a fierce, protective voice for all living creatures on Earth: human, animal, and plant. She championed many social causes, such as equal rights for women and fair wages for farm workers.  She advocated for those who could not speak for themselves. Her absence is profound. She will be grieved for and missed. While the environmental community has suffered a great loss with her passing, we are inspired by her courage, her bright sense of humor, her compassion and her absolute dedication to service. Ellen is our hero!
Ellen wanted two going-away celebrations to be held: one in Estero and one at Fisheating Creek. Public invitations to these celebrations will be announced as soon as all of the arrangements have been made.   
In lieu of flowers, donations may be made to Happehatchee Center, P.O. Box 345 Estero, Florida 33929-0345 or Save Our Creeks, P.O. Box 135, Palmdale, Florida 33944.
Her passing was also commemorated on the Everglades Commons and News-Press of southwest Florida. And as late as last week, her strong and passionate voice was still being heard, as she called for the resignation of Florida Audubon's Eric Draper, who recently sold out Nicodemus Slough (in the Fisheating Creek watershed) and has been running the supposed conservation organization in service of energy companies, rock miners, cattle ranchers and their political lackeys. Read her full letter and see a video of Eric Draper kissing Jeb Bush's ass on behalf of FPL.