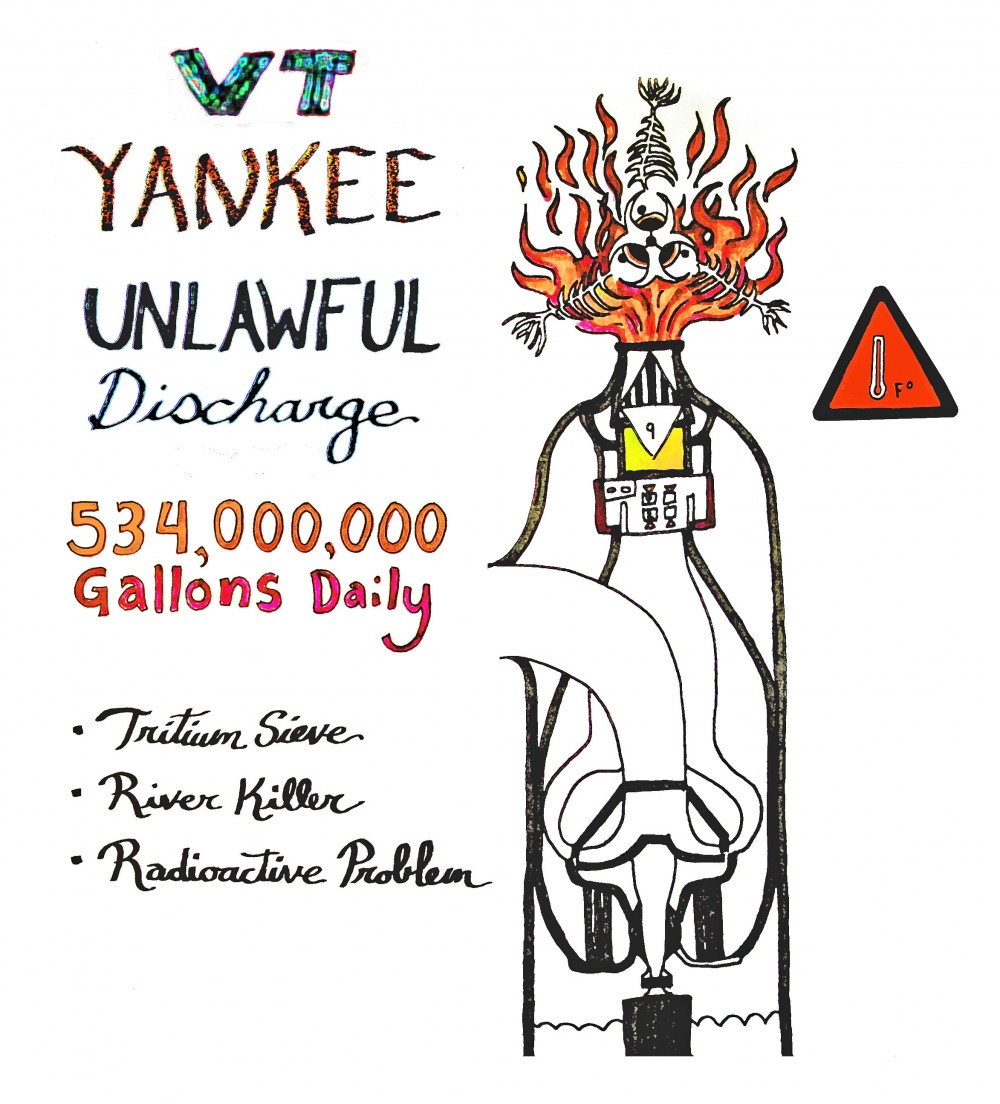 A CALL TO JOIN THE ORGANIZING OF A REGIONAL CAMPAIGN OF NONVIOLENT DIRECT ACTION TO SHUT DOWN VERMONT YANKEE
Sunday, Sept 18, 2011—10 am – 4 pm
Bugbee Senior Center, White River Junction
262 North Main Street, White River Jct.,VT
(see directions below)
PURPOSE OF MEETING: to develop a people's campaign of nonviolent direct action to shut down Vermont Yankee on schedule – by March 21st, 2012. Vermonters and our tri state community have worked for 20 years to shut down Vermont Yankee and are committed to a green energy future. Our voices were resoundingly heard when the Vermont Senate voted overwhelming to replace Vermont Yankee in 2012. Now Entergy is trying to undermine the will of the people and steal our vote away.
We support the state of Vermont in its efforts to fight this untrustworthy, corporation. However, the people must also make it clear to Entergy, the courts, the State of Vermont and the media, that it is unacceptable for Vermont Yankee to continue to operate after its license expires in March 2012. In the event that Entergy Corporation defies Vermont law and continues to operate Vermont Yankee or, that the courts, ruling on the lawsuit brought by the Entergy against the State of Vermont, refuse to uphold Vermont law, the democratic process, and the will of the majority of Vermonter's and our neighbors in Massachusetts and New Hampshire, we will act. We must not allow this Louisiana, profit-driven corporation to subvert democracy and imperil the future of the New England region.
In the aftermath of Fukushima, there is no longer any doubt that nuclear power is an imminent threat to our lives, health, environment, and livelihoods. Vermont Yankee, approaching the end of its 40-year operating license, and running at 120% of its original design capacity, is an aging Mark-I reactor, identical in design and age to the reactors that exploded and melted down in Fukushima. The inadequacy of the Mark-I design has long been known, yet the Nuclear Regulatory Commission has allowed 23 of these reactors to continue to operate in America. It is time to close these dangerous reactors, starting here and now with Vermont Yankee.
September 18th will be a meeting, for those who want to commit the time necessary for organizing a non-violent direct action campaign with the goal of closing Vermont Yankee on schedule. The focus of this meeting will be on affirming a participatory organizational structure and an open decision making process and approving action guidelines. as well discussion of possible scenarios for a broad and sustained non-violent direct action campaign and a name for the organization will be chosen.
Informational sessions about Vermont Yankee, action camps and nonviolence training workshops will be scheduled for later dates.
WHO IS INVITED: Anyone who agrees with the purpose of this meeting and is willing to dedicate the time necessary to organize the campaign.
WHEN & WHERE: This founding assembly will take place on Sunday, Sept. 18, 2011 from 10 – 4 pm pm at the Bugbee Senior Center in White River Junction, VT. Please try to carpool, and to arrive early. Coffee, tea, etc. will be available. A small lunch will be provided; as well, potluck offerings would be appreciated (there may be up to 50 people at the meeting).
RATIONALE: We, the People, cannot allow a mega-corporation like Entergy to subvert democracy and continue irradiating our region while adding to the tons of high level nuclear waste stored high above the banks of the Connecticut River. The people of this region—by means of petitions, letters, public hearings as well as demonstrations, and votes by the Vermont legislature and annual town meetings—have long and repeatedly expressed their will to close Vermont Yankee and replace its power with safe, renewable alternatives. Many nations—including Germany, Italy, Switzerland, and Japan—are taking action to halt the continued use of nuclear power. Vermont has done the same.
Entergy is determined to keep the Vermont Yankee nuclear power plant operating. In a last ditch effort, Entergy is suing in federal court to prevent the sovereign will of Vermont from prevailing in the shutdown of Vermont Yankee. If the courts rule against Vermont or if Entergy defies Vermont law we must take action for the sake of our lives, democracy, future generations, and the environment.
PLEASE JOIN US! In a People's Campaign to Close Vermont Yankee
Signed by:
Randy Kehler, Bob Bady, Nancy Braus for Safe and Green Campaign; Debra Stoleroff, Chris Williams, Robin Cappuccino, David Detmold for the Vermont Yankee Decommissioning Alliance;
Deb Katz and Chris Williams for VT Citizens Awareness Network Hattie Nestel for the Shut it Down Affinity Group. Erik Gillard for Green Mountain EarthFirst!
Respond by email confirming you will come by September 16 to the following addresses:
Erock at : greenmountainearthfirst@hotmail.com
Bob Bady (Safe and Green) email: bobbady@gmail.com
Deb Katz (CAN) email: deb@nukebusters.org
Debra Stoleroff (VYDA) email: debra@vtlink.net
for DIRECTIONS email greenmountainearthfirst@hotmail.com