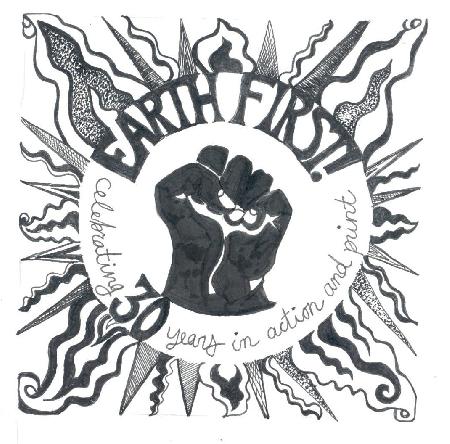 This Spring, the Earth First! 30th Anniversary CD was released along with thetwo-volume anniversary edition of the Journal.  The CD includes new and re-released tracks from amazing artists of folk, punk, hip-hop, metal, and more, including:  Casey Neill, Peg Millett, Blackbird Raum, Rye'n Clover, Marie Mason, From the Depths, Strawberry Jam, Las Krudas Cubensi/Satira & Mestizo, Citizen's Band, Here's to the Long Haul, Tre Arrow, Gedden Cascadia, Longneck Lula, Autumn Springs, Thistle, Automoog, Grant Peeples, Son del Centro…  Order a copy here.
You can find out more details about the music at: Musicians.EarthFirstJournal.org
Select songs off the CD can also be purchased online here. For those who have already gotten an early pre-released copy of the CD: You can download a printable PDF of the insert here with information about the musicians, the project, etc.
If this project continues to get support, we already have enough songs for a second disc. (Thanks to all the awesome musicians who sent songs, sorry we couldn't use 'em all on this one!)
Distributors get in touch with us directly for wholesale rates.
Thanks for all your support. Keep it coming!
…and Keep It Wild!
—EF! Journal Collective