Lives of blockaders threatened by rogue bulldozer operator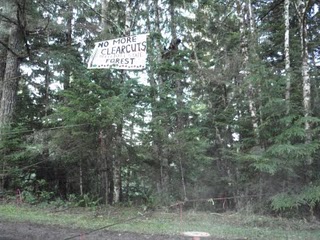 "This is Cascadia Forest Defenders with an urgent call out for support on the Treesit and road blockade currently protecting Native forests in the Elliott State Forest. We have a stronghold that is holding but nearly lost 2 sitters at another site this morning, when a rogue, still un-identified bulldozer plowed through the slash piles and anchors which were attached to the road and were holding there platform in the trees, these brave individuals fortunately had good training and survived the incident.
If you are trained and experienced in forest defense, we need your help. If you are able, Join us in the Elliott, we need you on the roads and in the trees, contact us if you can help out.
If you are not in the area, We would love to see some solidarity actions! If you are in a position to to do so, take action to let the Oregon Department of Forestry (ODF) and the State Land Board know that their behavior in our state forests is unacceptable and must stop now!
Please send this message along, spread the word, Make some noise, and RISE UP against ODF and their heinous ways!"
Find out more from the Cascadia Forest Defenders.