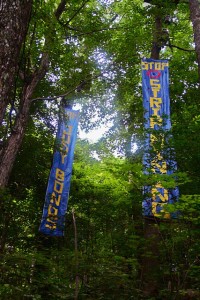 The RAMPS Campaign put a couple of tree-sitters up on Coal River Mountain to stop mountaintop removal coal mining. The tree-sit has stopped Alpha Natural Resources strip mining operations on Coal River Mountain. Catherine-Ann MacDougal and Becks Kolins currently are sitting in trees 80 feet off the ground about 300 feet from active blasting operations.
Their banners read "STOP STRIP MINING" and "FOR JUDY BONDS."
Judy Bonds was an Appalachian leader in the anti-mountaintop removal fight who died of cancer earlier this year.
Judy's daughter, Lisa Henderson, said in support of the tree-sit, "I hope that today's actions serve as a symbol that the struggle to live peacefully and pollution-free in the Coal River Valley did not end when my mother's life did.  My mother and I often compared the fight to survive here on Coal River to the civil rights struggles of the 1960s.  I am sure that generations from now, our children will look back on this movement also and the actions of the people involved, and ask the question of their elders, 'Whose side were you on?'"
Click here to read full story and full July 20, 2011 press release
The following is an excerpt from an Understory post by Scott Parkin. Image of Judy Bonds via americanswhotellthetruth.org
UPDATE:
Alpha Natural Resources halted all work on the Bee Tree surface mine while WV State Police and mine security spent over four hours attempting to locate the position of the four young people – even with the company helicopter.  Upon discovering them, Walk and Schewel, were arrested, and Kolins and MacDougal remain in their respective trees.  They plan to stay there as long as they are physically able, in order to prevent Alpha from conducting further surface mining operations on Coal River Mountain. Blasting on the entire Bee Tree site was shut down for the whole day.
Kolins and MacDougal sent periodic text messages throughout Wednesday to their supporters.  Kolins reported that a helicopter, owned by Alpha Natural Resources, hovered dangerously close to their tree.  The two tree-sitters also confirmed that a bulldozer is slowly grading a road towards their location from the mine wall bench.  Despite their isolation, these two, strong, brave young people, in the spirit of the late Judy Bonds, have vowed, "We Won't Stop Until They Do – Stop All Strip Mining!"
Walk and Schewel were released from Southern Regional Jail at around 9:45pm, each was held with a $1000 bail.  As is evidenced by the picture below, they are in high spirits, and are looking forward to a good night of sleep.

RAMPS would like to extend its gratitude to the multitude of people across the country that have expressed their unwavering support for the tree sitters who have chosen to take a stand for mountains and communities.  Please be assured that these words of encouragement are being passed on to the young people in the trees, and will be ever more necessary with each passing day they spend sitting and sweating in the muggy West Virginia heat.
If you are able, consider donating $5, $25, $50 or more to the RAMPS' campaign general fund.  All money in the general fund goes towards feeding and housing the large behind-the-scenes support crew that is necessary to pull off an action of this nature safely, securely, and effectively.