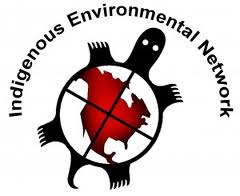 New Town, ND—Community members of the Mandan, Hidatsa, and Arikara Nation (MHA) are hosting the 16th Protecting Mother Earth Gathering (PME) at the Little Shell Antelope Society arbor in the Four Bears Park campground, south of the 4 Bears Casino, from July 28-31, 2011. The Four Bears Park is situated 4 miles west of New Town, North Dakota.
The Indigenous Environmental Network (IEN), a Native national environmental justice advocacy organization, is sponsoring the gathering where educators, indigenous peoples, local community members, youth and elders, and other interested individuals camp outdoors together for four days to collectively discourse and strategize on the resolution of local, national, and international environmental justice and indigenous rights issues through forums of plenary and concurrent workshop sessions.
The theme for the July gathering is "Water, Energy, Climate, and the Importance of Health & and Culture," which is fitting for the indigenous community hosting PME. The MHA homelands are currently in the midst of a gigantic oil boom on the Fort Berthold Indian Reservation. Tribal members are experiencing social, economic, environmental, and cultural changes for which they were wholly unprepared. A greatly increased industry-related population has resulted in a town full of strangers competing for the same jobs and resources as the local people. Long convoys of huge industrial vehicles roar through the towns and countryside tearing up roads that weren't built for behemoth trucks.
The Protecting Mother Earth Gathering will provide a forum for the local community and visitors to discuss their specific and mutual concerns, to gain an understanding of IEN's work, and to seek viable methods for protecting the environment. Individuals interested in the gathering may visit IEN's website at www.ienearth.org  for more information and to register.
###