Prosecutors unhappy about recommendations of less than 10-year maximum as a result of bidding on oil and gas leases to stall extraction in Utah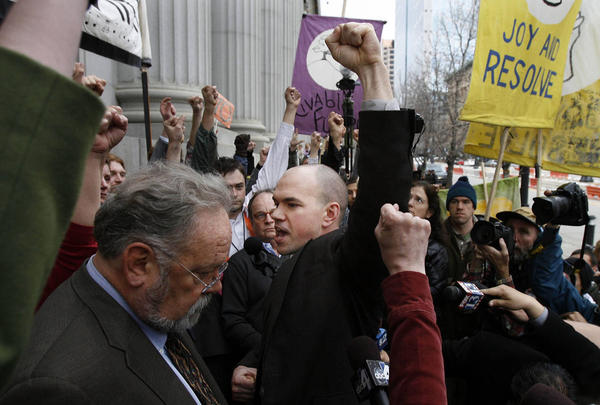 SALT LAKE CITY, UTAH—Federal prosecutors don't like the sentencing recommendations made for an environmental activist convicted of interfering with a government auction of oil and natural-gas leases near two of Utah's national parks. Papers filed in Salt Lake City's U.S. District Court on Tuesday show the U.S. Probation Office report for Tim DeChristopher recommends a sentence that is less than the 10-year maximum.
Prosecutors argue the report incorrectly calculates the harm caused when DeChristopher ran up the price of 13 oil and gas leases near Utah's Arches and Canyonlands national parks to push the land beyond the reach of other buyers in December 2008. Details of presentence reports are not made public by the courts, but the filing from prosecutors suggests the recommendations give the 29-year-old DeChristopher credit for taking responsibility for his actions.
DeChristopher, who knew he didn't have the money to cover the bids, has never denied his crimes and has said his actions were an act of civil disobedience. In March, a federal jury took five hours to convict DeChristopher on felony counts of interfering with and making false representations at a government auction. Sentencing will be July 26.
"He lied, obstructed lawful government proceedings and caused extraordinary loss to others. Unilaterally, he played out the parts of accuser, jury and judge as he determined the fate of the oil and gas lease auction and its intended participants that day," prosecutors said in court documents.
Prosecutors contend DeChristopher should be awarded a "significant" prison term and held accountable for losses that include $139,000 in Bureau of Land Management auction costs, the $1.8 million price of his successful fake bids and the estimated losses of businesses that sought to buy leases – one bidder estimates his personal loss at $600,000, court papers say.
Defense attorneys deny DeChristopher caused any harm and argue instead that his bidding benefited the government.
"DeChristopher actually made money for the federal government, perhaps more than $300,000," the defense said in its court filings. "The bidders who bid on and won the parcels after DeChristopher's bidding were given the opportunity by BLM officials to renege on their purchases, but opted not to …"
The defense also argues that effort by DeChristopher to make some payment on the parcels he won were inexplicably rejected by the government.
DeChristopher's actions have made him a hero among some environmentalists and have drawn the attention of celebrities like Daryl Hannah, Robert Redford and Peter Yarrow of the 1960s folk-singing trio Peter, Paul and Mary.
The trial drew hundreds of supporters to colorful courthouse rallies organized by members of DeChristopher's own Salt Lake City nonprofit group Peaceful Uprising. Supporters wore orange sashes as a symbol of solidarity, acted out scenes from the trial with giant puppets and sang protest songs.