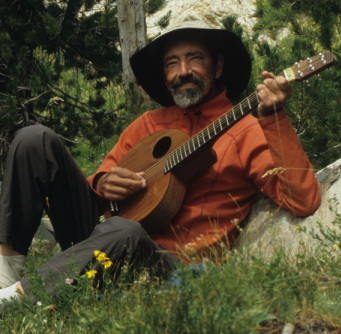 Below is a snippet of a press release about the August 20 celebration of Walkin' Jim Stoltz, an Earth First! musician from the early days of the movement who passed in September last year:
 Friends, family and admirers of one of Montana's most well-known environmentalist-singers will gather on Saturday, August 20 in the Big Sky Town Center to celebrate the life of Walkin' Jim Stoltz  in a manner he would have appreciated: In the mountains, with music.
   Nationally known artists Dakota Sid Clifford, Earth Mama Joyce Rouse, Kate Bennet, Emma's Revolution, and Alaskan troubadour Susan Grace Stoltz are just some of the musicians who will take to the stage in the new Town Center pavilion to share their songs of the Earth. They will be joined by Montana performers Bluebird Sky, Prairie Wind Jammers, Keith Hammer and Cowgirl Poet Buzzy Vick in the free all-day event, billed "Forever Wild 2011"  which will take place at the Big Sky town Center from 3:30-8:30 PM.
   The Forever Wild memorial is a way to both honor Jim's life and continue his vision. Concert-goers will have opportunities to donate to MUSE and its new scholarship fund, Kid for the Wild, which is intended to help kids spend time in the outdoors through assistance with camp or outdoor expedition expenses.
   For more information on the concert, what's in Big Sky and Walkin' Jim's life and legacy, check the M.U.S.E. site (Musicians United to Sustain the Environment) at www.musemusic.org.  We hope to see you there!
For more about Walkin' Jim's life, click here