From World Carfree Monthly News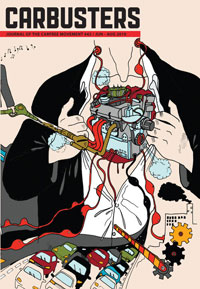 ECOLOGICAL CAMP IN KHIMKI FOREST
As featured repeatedly in this bulletin, the resistors to a construction of a highway through a forest outside of Moscow have come up with many creative ideas. They have now lined up a camp in the forest to take place from July 28 to August 6. Please see the details on the website or get in touch with the organisers at savekhimkiforest@gmail.com.  Read more.
CITIES SOUGHT FOR PARTNERING IN CARFREE PROJECT
A consortium is currently seeking committed partner cities for a Central European project (financed by the ERDF) with the aim to build larger car-free networks within cities (existing or new). Currently partnership is sought from Poland, Slovenia, Slovak Republic, Hungary, Czech Republic. For more information, please get in touch with Joerg.schweitzer@unibo.it.
CYCLO-CAMP NEAR LINZ IN AUSTRIA
DIY festival and bike repair workshop will take place from 26 of July to 1st of August in Ottensheim near Linz (Austria). This will be a fun camp organised by various Austrian bike kitchens. Read more.
SUNDAY STREETS IN SAN FRANCISCO
Keep in mind the fabulous fun to be had in the carfree Sunday Streets programme in San Francisco. The  next dates are Civic Center/Tenderloin (Aug 14), Western Addition/Fillmore/North Panhandle (Sept 11), and a new route in Chinatown/North Beach (September date to be confirmed). Read more
ECOTOPIA BIKE TOUR STARTING SOON
The Ecotopia Bike Tour will be starting soon on July 29 and cycling from Florence, Italy down to southern Italy, for the whole month of August. Check up the route updates as well as a call-out in eight languages. Read more.
TOWARDS CARFREE CITIES 2011 IN MEXICO The tenth Towards Carfree Cities Conference will be held in Guadalajara, Mexico, from 5 to 9 September 2011. The theme this year is "Building Carfree Cities for the People, by the People", with a focus on citizen participation and the sharing of experiences between campaigners from around the world. This is the last call for attendance. Make your travel arrangements now!