Some 60 people were injured when police and protesters clashed over the construction of a high speed rail link between France and Italy. Environmentalists say the railway would destroy a picturesque Alpine valley.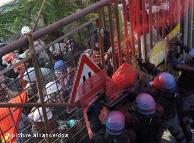 Scores of people were injured in northern Italy as police confronted protesters opposed to the construction of a high-speed rail link between France and Italy on Monday.
Some 60 individuals – about half of them police officers – had to go to hospital for injuries sustained in the violence, according to the country's medical emergency services.
Police said officers were injured as protesters threw firecrackers and rocks while demonstrators said that some activists had been beaten.
Protesters, includíng environmental activists as well as local residents, oppose construction of the line between Turin and Lyon, claiming it will destroy the picturesque Alpine valley known as Val di Susa.
The confrontation began as 2,500 officers began to dismantle wooden barricades aimed at preventing construction workers from accessing a tunnel boring site.
'Urgent need to start work'
Italian Interior Minister Roberto Maroni has said that work must start by June 30 to prevent Italy losing funding for the project from the European Union, worth hundreds of millions of euros. Construction costs for the link are estimated at 15 billion euros ($21 billion).
Environmental group Legambiente said there should be an "immediate end to all the violence" and claimed the government had made a "grave error" by sending police in to clear the barricades. "Batons are not the instrument of good politics," said Legambiente leader Vittorio Cogliati Dezza.
France and Italy signed a deal in 2001 to build the new rail connection, which is to be a strategic link in the European network and allow travel time between Milan and Paris to be slashed from seven to four hours.
Further protests have been announced, with a demonstration in Rome planned for Tuesday.
Author: Richard Connor (dpa, Reuters)
Editor: Martin Kuebler
cross-posted from here