By John Carroll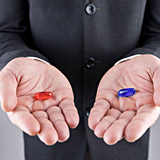 There's a new breed of corporate player jumping into the biotech business. Reuters takes a close look at an unlikely lineup of multinational companies like Samsung, Hanwha Chemical and Fujifilm which are weighing in with new pacts on biosimilars to compete against dozens of biologics that will lose patent protection in the decade to come.
While tech manufacturers and camera companies aren't known for their expertise in drug development, they make excellent deep-pocket partners for Merck and others who are beavering away at the biosimilar game. For these companies, notes Reuters, biosimilars offer a solid new revenue source that can register in the billions. And as biosimilars will be far more complex and significantly harder to develop than today's traditional small molecule copycat, this is a game that will be dominated by big companies. And they won't be operating alone.
"This is a business that is going to be characterized by partnering, because no one company has all the components they need," Mike Kamarck, president of Merck Bioventures, the U.S. drugmaker's biosimilars division, told Reuters.