Alexei Barrionuevo, New York Times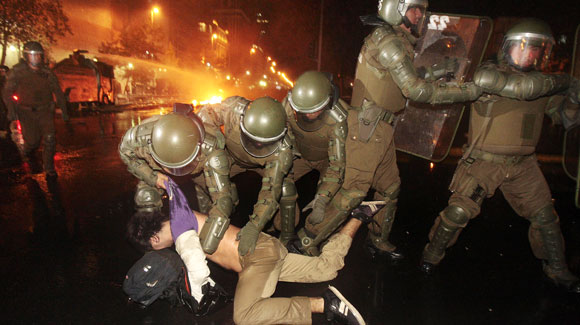 Santiago, Chile —
A white gas mask hanging from her neck, Paula Banados strode side by side with 30,000 other marchers through this capital one recent Friday, a determined look on her face.
By the time they reached Chile's presidential palace, some had begun hurling stones and pieces of wood at the armored police vehicles. Sirens blaring, the police responded by firing water cannons on the crowd.
In what has become a surprising national movement, organizers have mounted large protests since a government environmental commission approved the $3.2 billion HidroAysen dam complex in May in a pristine region of Patagonia, known for breathtaking glaciers and lakes.
The protests, which have resulted in 28 police officers being injured and more than $100,000 in damage to public property, have rattled the government of President Sebastian Pinera. His approval rating fell to 36 percent in May from 41 percent in April, in part because of the outcry over HidroAysen, according to Adimark, a Santiago research group.
While the government supports expanding hydroelectric power production, more than 60 percent of Chileans are against HidroAysen, polls show. After the commission's decision, now the fight turns to the 1,200-mile transmission line yet to be approved.
Many Chileans consider Patagonia a national treasure, and the battle to stop the project has inspired people to join the antidam cause to an extent that other environmental protest movements in South America have failed to reach.
HidroAysen is an especially tense subject in Chile because the country, more than its neighbors, is struggling to secure energy supplies to keep up with its economic growth. Chile will need to double its electric capacity generation over the next 10 to 15 years, according to government officials and private energy analysts.
Chile has no oil or natural gas of its own. After the earthquake in Japan this year, Chile's mining and energy minister, Laurence Golborne, said it would be "very difficult" now to build a nuclear plant, given fears that the quake raised about Chile's earthquake-prone geology.
HidroAysen, a planned complex of five dams on two rivers, would produce 18,430 gigawatts a year, which was about 35 percent of Chile's total consumption in 2008. It would also flood a large part of a region dominated by national parks and reserves, say people opposed to the dams.