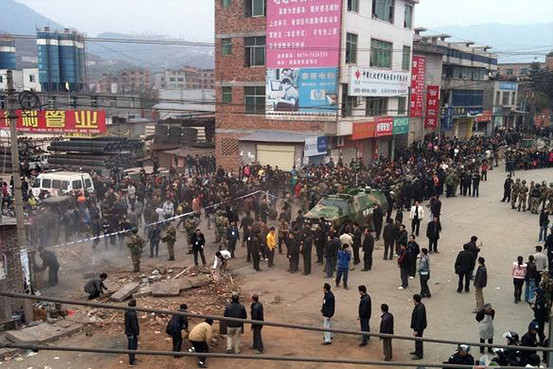 Chinese paramilitary police crushed a five-day protest by up to 2,000 Chinese villagers who complained that they weren't being paid enough to relocate for one of China's largest hydroelectric power projects, according to local officials.
The villagers set roadblocks, physically harassed officials and damaged government vehicles in Suijiang County in the southwestern province of Yunnan before being dispersed by paramilitary police on Tuesday afternoon, the officials said.
More than a dozen police were injured, they said. No demonstrators were hurt, said a local-government spokeswoman, who agreed to be identified only by her surname, Wu. The reports of injuries couldn't be independently confirmed.
The protest was one several examples of civil unrest triggered by land disputes in China, where farmers increasingly are being forced to relocate to make way for housing, golf courses or large infrastructure projects.
Suijiang County is on the border between Yunnan and Sichuan province. It is near the Jinsha River site of the Xiangjiaba Hydroelectric Station, which is designed to be one of China's largest.