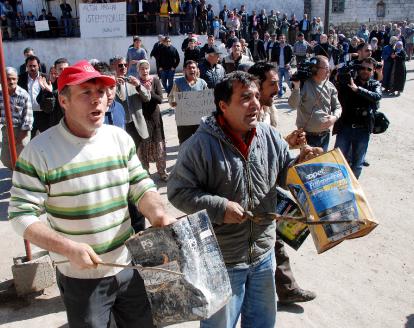 Residents of a northwestern Turkish district on Monday protested a mining company for its alleged practices of leaching gold out of rock with cyanide.
Environmentalists and locals gathered in the Şahinli village of Lapseki district in front of the village teahouse, where the Environment and Forest Ministry was to hold a meeting to inform people about the gold mining process.
Davut Şahin, head of the village in Çanakkale province, said they would not allow gold mining in their village. The ministry meeting in the teahouse was canceled due to the protest, agencies reported.
The locals held banners reading, "We do not want any gold prospecting in Şahinli," while some hit tin cans with sticks during the protest.
News reportedly spread among locals that a Canadian firm planned to mine the area using gold cyanidation, a method that dissolves gold in a cyanide solution in order to extract the precious metal from low-grade ore. Residents took to the streets in protest.
Read the rest here:
http://www.hurriyetdailynews.com/n.php?n=-2011-03-16