from Abolition Media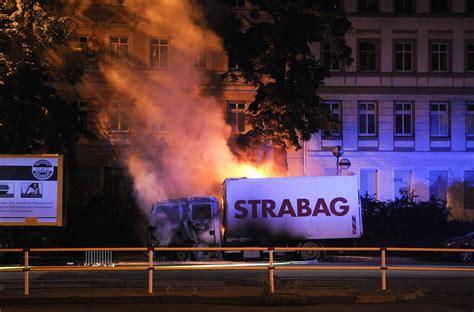 With thoughts of the hunger-striking anarchist Alfredo Cospito, we set fire to Strabag trucks in the Schanze (a central quarter of Hamburg) on the night of January .
Strabag does not only build prisons. At least since the struggle for the Dannenröder forest, they have often been the target of attacks because they actively destroy nature. Our fire should also give strength to those fighting in and around Lützerath. Day X has already been proclaimed.
"We stand in solidarity with Alfredo Cospito, who has been on hunger strike since 20 October 2022 against his imprisonment in the 41-bis isolation regime and against life imprisonment without the option of release. Alfredo's detention conditions are slightly better at the moment than previous weeks. He has lost a lot of weight and his health is relatively stable, but could become critical at any time. Two other prisoners in Italy, Anna and Juan have been on prolonged solidarity hunger strikes and Ivan Alocco, a prisoner in France is also supporting Alfredo through hunger strike. Toby Shone, who is in prison in England, is also supporting Alfredo by refusing food several days a week.
https://actforfree.noblogs.org/post/2023/01/01/italy-update-about-the-health-condition-of-alfredo-cospito-on-the-71st-day-of-hunger-strike/
We are also in solidarity with Thanos Chatziangelou from the organisation Anarchist Action, who was illegally transferred from Korydallos to Nigrita prison in Serres on 19/12. Thanos started a hunger and thirst strike that day. The companion is involved in the recent mobilizations in prisons in Greece against the new harsh laws, which are currently taking place in many places and in which many prisoners have been participating in recent months.
On 25.12, he was transferred to the hospital in Nigrita, where he is guarded around the clock by police. On the evening of 31 December, external doctors attempted for the first time to subject him to the torture of force-feeding on the basis of a prosecutor's order. Thanos resisted and pulled the injections. Force-feeding is torture! Our companion's demands must be met! The reasons for his transfer must be given and he must be brought back to Korydallos.
Five other prisoners in Greece have gone on hunger strike for his demands.
https://de.indymedia.org/node/249682
We stand in solidarity with the 11 comrades from Turkey who are imprisoned in Greece: Ali Ercan Gökoğlu, Burak Agarmış, Hasan Kaya, Sinan Çam, Şadi Naci Özpolat, Halil Demir, Anıl Sayar, Harika Kızılkaya, Hazal Seçer, Sinan Oktay Özen, İsmail Zat. They have been on hunger strike since October 7, demanding a fair trial and an immediate reversal of the 133 years in prison they received collectively from a Greek court. They are also demanding their rights in relation to their arrest and a legal status in Greece. Many prisoners in Greece are in solidarity with the 11."
The words we share are from the call for the demo "NO PRISON, NO NATION, STOP ISOLATION" on 8.1. in Berlin.
Freedom for all prisoners! Down with the walls and the energy companies!