from The Guardian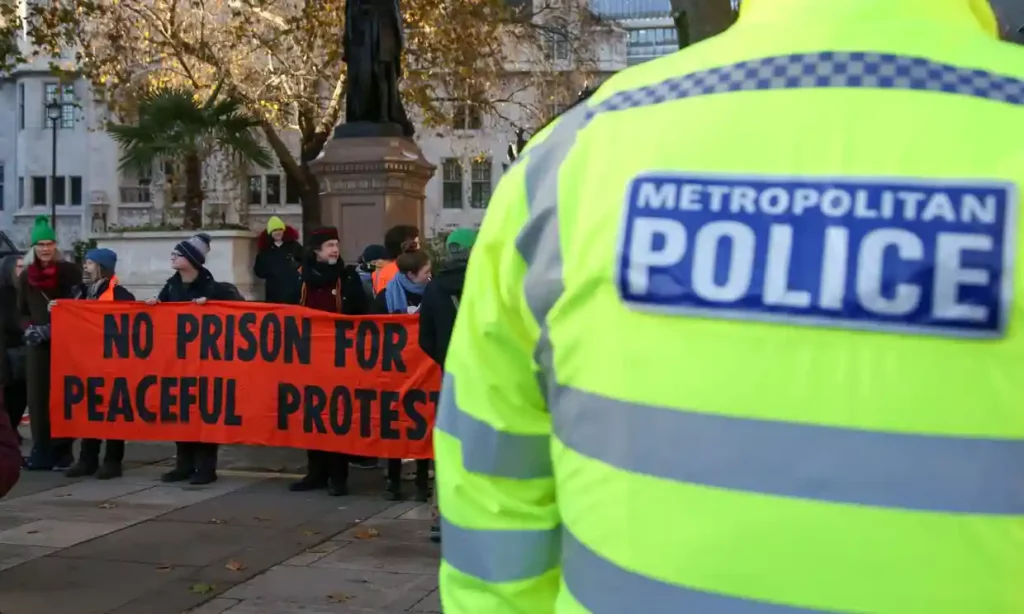 Ben Okri, Simon Schama, Helen Pankhurst and AL Kennedy are among more than 100 writers who have signed a letter in solidarity with UK climate protest prisoners.
"That the UK now has political prisoners, incarcerated for defending sustainable life on Earth is yet another national disgrace," Kennedy said.
At least 13 environmental activists began the year behind bars in UK jails, after a year of "civil resistance" against climate policies led by the Just Stop Oil campaign. More than 100 spent time in jail, either convicted or on remand, for environmental protest in 2022.
"We stand with all those who are trying to sound the alarm and to protect our beautiful world," said the letter, coordinated and published by the group Writers Rebel.
Invoking the urgency of the crises affecting the world's climate and ecosystems, it continues: "Right now, many people who are deeply concerned about the climate and environment are turning to civil disobedience.
"While it is understandable that the state wishes to limit the disruption this may cause, it is vital that the right to protest is protected. Protest plays an essential part in our society in raising public awareness and enabling change."
In 2022, parliament passed a host of anti-protest laws written specifically to tackle climate protesters, and more are proposed in a public order bill being considered by MPs.
Among the new laws was a statutory offence of causing a public nuisance, which was used to convict Jan Goodey, a university lecturer from Brighton, after he climbed a gantry over the M25 to stop traffic. He is serving a six-month sentence.
Also behind bars are Abigail Percy-Ratcliff, Alexander Wilcox, Callum Goode, Daniel Shaw, Ian Bates, Karen Matthews, Louis McKechnie, Marcus Decker, Morgan Trowland, Paul Bleach, Roger Hallam and Samuel Price, according to a list provided by Just Stop Oil.
Many are on remand for long periods. Decker and Trowland were remanded on 20 October after pleading not guilty to causing a public nuisance for scaling the Dartford Crossing, closing the motorway bridge over the Thames for two days. They are not due to stand trial until 27 March.
McKechnie has been in prison since last July, after a string of protests including interrupting a football game by tying himself to a goalpost.
Climate activists were the present day's suffragettes, Pankhurst said. She added: "At Bow Street magistrate courts in 1908 my great-grandmother Emmeline Pankhurst defended the suffragettes' actions by saying: 'We are here, not because we are lawbreakers; we are here in our efforts to become lawmakers.'
"The same applies to the actions of climate activists today. They have my support both because the barriers to protest that they are increasingly facing demonstrates the dangers to democracy when protest is silenced and because climate change is an existential threat that those with power must do more to confront."
Okri said: "Why is it easier to punish people who are trying to save our world than to face the causes of the environmental disaster hanging over the human race?"