by Onion / Earth First! Newswire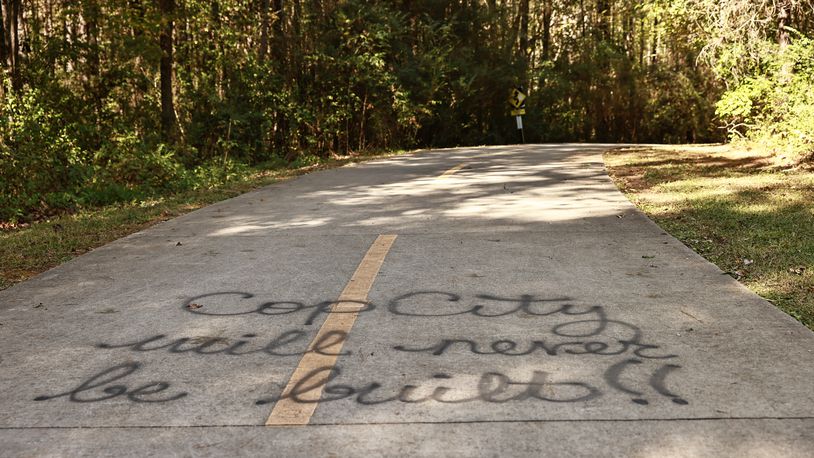 Despite construction workers consistently violating a stop worker order by DeKalb County, a shady judge denied an injunction to halt further environmental destruction in the Atlanta Forest. The destruction is being committed in order to build a movie studio and a terrorist police training center. In a clear sign of bias, the judge also insisted that "left-wing" activists be kept away from the area and made the mind-boggling statement that the forest defenders are causing more damage than the money hungry pigs who want to destroy the place. Judge Stacey Hydrick said, "I [am being paid to] think, frankly, the damage [to my bank account] that's been done by those folks who are inhabiting it is far worse than anything that anybody else is doing at this point,"
The forest has been occupied by folks who care more about living trees and animals than training police to kill and enslave more humans, and has received world-wide attention. The occupation has featured treesits, battles with the police and construction crews, lots of slash piles, and other rad stuff.
After state goons cleared forest defenders from the Atlanta Forest on December 13 — in an operation that resulted in six people being charged with bullshit, domestic terrorism charges—crews working for the profiteers destroying the forest for profit demolished a gazebo, tore up concrete walking paths, and killed trees.
Lawyers demanded the judge issue an injunction to halt further destruction in the forest, which has already led to the public having impeded access to the park land and trails. The capitalist in charge of the project has claimed that he has cut down trees and removed concrete hiking paths in order to help law enforcement defeat "the Anarchists."
In one of the many examples of the judge not having a good grip on reality, she claimed that there wasn't enough evidence to prove that an injunction would serve the public interest.
All the forest defenders hit with the made up charges were released in late December after solidarity actions took place around the world.