from It's Going Down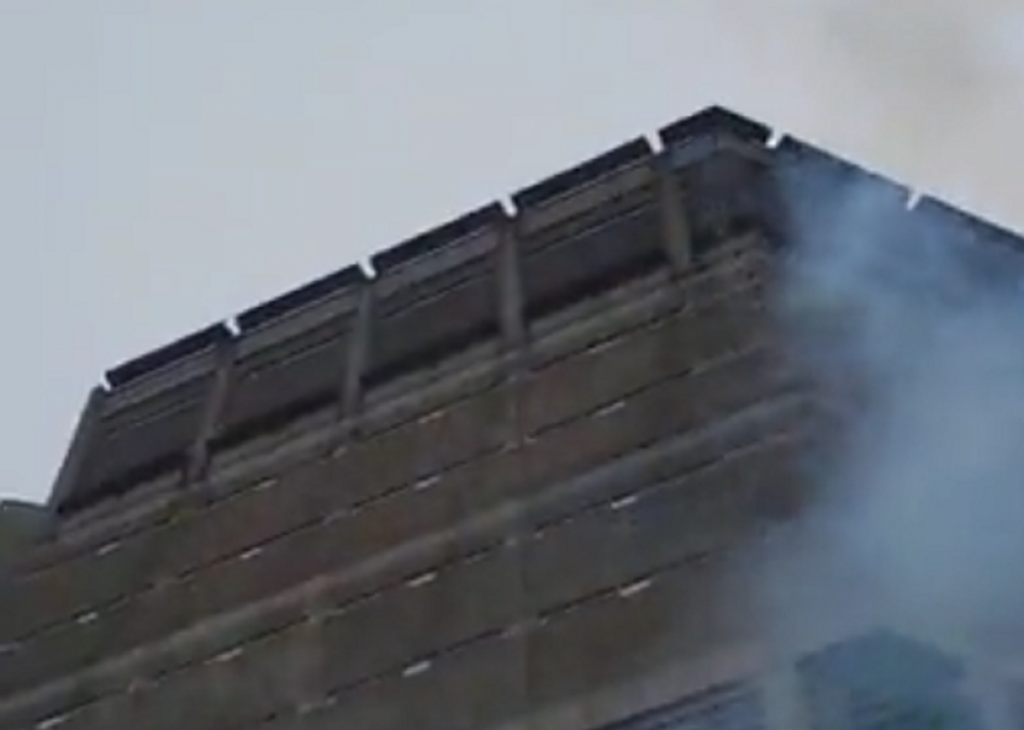 On Tuesday, December 13th there was a raid in the Atlanta forest where five were arrested after police brutalized them with tear gas and pepper balls.
Forest defenders swiftly called for a noise demonstration at the DeKalb County Jail in solidarity with the five people arrested during the raid. By 8pm, protesters began to amass near the facility.
Sheriffs on foot lined the perimeter of the jail as a choir of twenty five voices, a dozen drums, two guitars, a cello, and various handheld noisemakers approached. Jail administrators peered down from office windows as protesters tossed smoked bombs in the road and chanted "1312, we are all here for you!," and "no forest, no peace."
With our flashing lights, lasers, and binoculars we gazed up, scouring the prison walls for evidence of folks inside hearing our call. We were quickly greeted by prisoners waving, frantically scrubbing the dust from their windows, and straining to peer down at the raucous below. We saw a few dozen of them throughout the demonstration.
We heard sounds of the prisoners banging back to us from inside their cells. Fifteen minutes in, one rowdy prisoner was spotted lighting a fire outside their cell window, which appeared to have been smashed out for the occasion.
Peering through binoculars, one noise-maker noticed an arm waving a sheet out of a third story window that also was smashed. After quieting the band, protestors and the two unknown prisoners shouted back and forth. "I love y'all," yelled the prisoners, "We love you too"! And all in agreement, "fuck the police!" "1,2,3," the prisoner led the forest defenders in a chant — "fuck! the police!"
"There's nothing that evokes such a feeling of solidarity— all the people at the windows —even though we are strangers to one another, we felt united in our determination against crude imbalance of power and systematic injustice," a forest defender stated.
This is not the first time a noise demonstration at DeKalb County Jail got rowdy. We and those locked inside who smashed their windows are part of a multiyear tradition at DeKalb County Jail. In 2019, protesters went inside the jail, fighting the police and at another, soon after prisoners smashed over a dozen windows, they threw down mold to the protesters below, revealing the horrific conditions they were trapped in.
The fight to Stop Cop City is a struggle not just for a world without a police training facility in the Weelaunee Forest but also for a world without prisons.