by Onion / Earth First! Newswire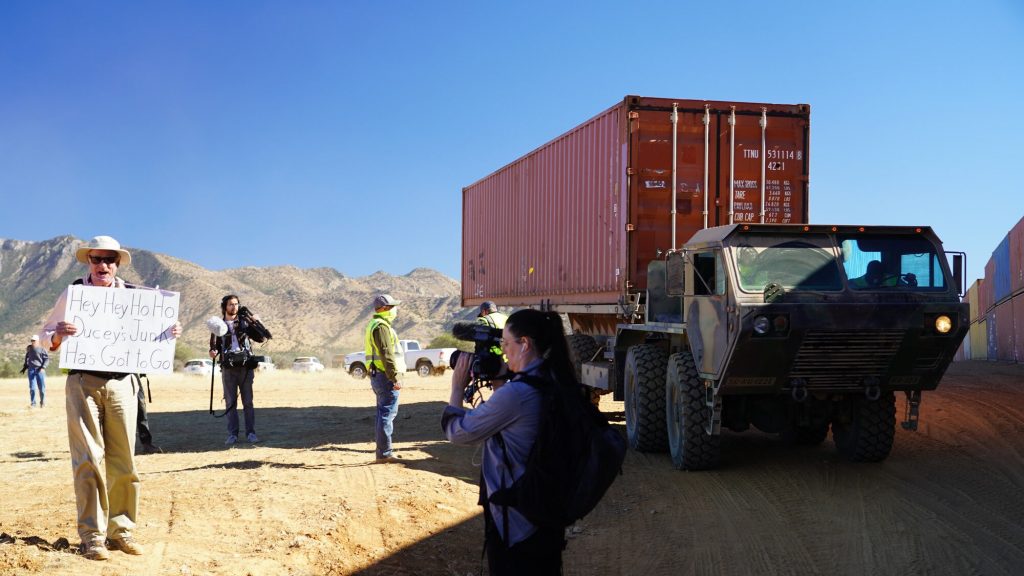 Work was stopped for the fourth consecutive day Friday, on Arizona governor Ducey's illegal border wall in the Coronado National Forest. Protesters put their bodies in between the machines and the destruction they were bent on causing, forcing work on the illegal wall to come to a stop.
Arizona is building the wall—made of double-stacked shipping containers—along the US Mexico border without following federal or local regulations according to the governor's office. The situation, according to southwest conservation advocate with the Center for Biological Diversity Russ McSpadden, "would be laughable if it weren't so damned detrimental to wildlife." Not only can most human beings with desire easily climb over the shipping containers, most animals (who enviously have no concept of borders) are now cut off from food supplies.
Construction of the makeshift wall began in October of this year and is expected to cost around $95 million by the time all is said and done. AshBritt is the name of the company profiting immensely off of the illegal, unethical construction. AshBritt (a company so un-savy that they don't even have a secure website) is located at 565 East Hilsboro Blvd in Deerfield Beach, Florida. They can be reached via phone at (954) 725-6992 and email at response@ashbritt.com.
In addition to disrupting the lives of wild animals, construction has already destroyed many oak trees, built through desert streams, and cleared a giant area for staging their machinery. After finishing up in Arizona the company expects to move on to other areas of the border in order to fill in the gaps left when Joe Biden put a half to construction of Trump's wall.
Defenders of the wildland also stood between machinery and the wall on November 29, not allowing a single container to be placed. There were also two other days in between the 29th and Friday where activists managed to stop some of all of the company's work for the day.