from It's Going Down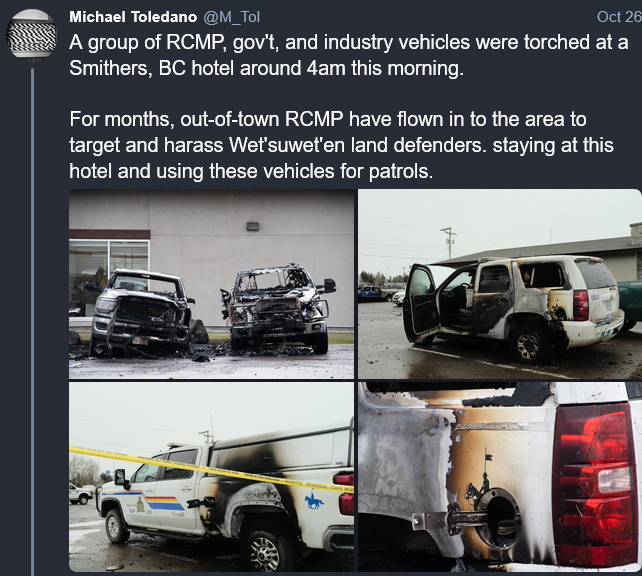 The morning of October 26th held a rude awakening for cops and industry in Smithers, BC, who woke up to news of 8 torched vehicles, including 4 cop cars in the parking lot of a hotel. One of the burnt police vehicles was a C-IRG (Community-Industry Response Group) car, an RCMP branch specifically tasked with policing movements against extractive industry. It is likely, however, that all RCMP vehicles there have been involved in some way in repressing, surveilling, and harassing the land defenders on the yintah who have been fighting CGL for years. When preparing for raids of camps on the yintah, police are often staged at hotels in Houston and Smithers.
Despite the fact that nobody has claimed the action and no official motive has been established, it appears obvious that the action was taken as part of the struggle against CGL and against the colonial police attempting to force the pipeline through Wet'suwet'en land. As police investigate, we hope for the safety of whoever took this brave action, and for the continued decline of police morale in the face of this resistance!
Shortly after news of the Smithers action came out, a CBC investigation revealed more details of the surveillance of 2020's Shut Down Canada rail blockades. CSIS, the Canadian Security Intelligence Service, was evaluating behind the scenes whether it would be viable to classify Indigenous activists as terrorists for participating in train blockades in solidarity with Wet'suwet'en. In March 2021, as part of a counter-terror briefing with government officials, the Integrated Terrorism Assessment Centre (ITAC) reported that "Unsophisticated acts of unlawful interference [like blockades] do not cross the terrorism threshold. Although these disruptive actions are damaging to the economy and to rail network operations, they have not yet amounted to acts of terrorism."
CSIS raised concerns both about the struggle against CGL and its country-wide support actions, but also about 1492 Land Back Lane, the victorious occupation of a would-be housing development by Six Nations land defenders. As well, they were concerned about "anarchist interference" in these and other Indigenous-led movements, saying that while not technically terrorists, Indigenous land defenders and their allies are "ideologically motivated violent extremists" who warrant state surveillance.It can be very useful to know bits and pieces of how the state is evaluating anarchist and anti-colonial movements. However, it can also be stressful and paranoia-inducing to consider the lengths that the state is likely going to to attempt to quash these movements. Attempts to paint anarchists as outside agitators with nefarious intentions  piggy-backing off of Indigenous-led movements is an old strategy which serves only to scare people out of participating in struggle and weaken relationships of solidarity. Let's stay strong in the face of repression, keep up the fight, and not allow the state to weaken our bonds of solidarity or our resolve.