from Unoffensive Animal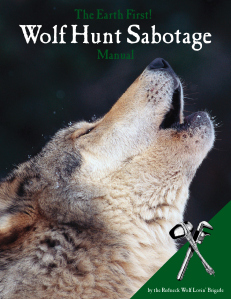 Our comrades from Sweden Hunt Saboteurs are once again having to fight against the massacre that is the Wolf Cull. This time, 75 wolves are scheduled to be murdered at the beginning of January.
We have attached their words below, but please, if you can afford it, donate to their FireFund and support them as much as you can from wherever you are in the world. The group fights constantly against hunting practices throughout the country, but their members are also strong antispeciesist comrades who take on the fight in many different fronts and are deserving of as much solidarity as you can extend. If you are unable to donate, please share as much as possible!
"On January 2nd the wolf hunt starts in Sweden and 75 wolves have been sentenced to lose their lives in brutal and ruthless ways. The hunters will tear families apart, torture them to death and traumatize not only the wolves but all the inhabitants of the forest. The wolf hatred is both great and accepted in Sweden which results in wolves being tortured and poisoned to death. Wolves are also a big part of the trophy hunt which means that their lives will be sold to the highest bidder, both legally and illegally.
Hunt Saboteurs Sweden intends to make the hunting difficult and prevent the killing in every possible way to protect the wolves. We will do everything in our power to protect and save these innocent and amazing creatures from the hunters bloodlust. Do you want to help the wolves and our work? Read more about it or donate by clicking the link. The security of the page is high and all the money goes directly to the protection of the wolves.
Protect the wolves – hunt the hunters!
https://www.firefund.net/protectthewolves"
Find Sweden Hunt Saboteurs here:
Facebook: https://www.facebook.com/HuntSaboteursSweden
Instagram: @huntsabssweden https://www.instagram.com/huntsabssweden/