from Anarchist Federation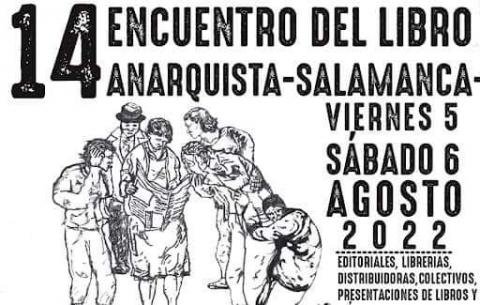 14th Salamanca Anarchist Bookfair
Friday & Saturday, August 5-6, 2022
Plaza Barcelona
Salamanca, Spain
Cheers!
We announce the dates of the next edition of the Bookfair.
As usual, we keep it in the month of August, to maintain a periodicity between the various Fairs, Shows, Meetings that are organized throughout the year and another, and no less important, because that is when many people have time to attend and travel.
Throughout these weeks we will be announcing the schedule of events.
We remind you, if you are interested in coming with written materials and exhibiting them, contact us through our email.
LOCATION
Everything will take place in Plaza Barcelona (opposite the railway station – Vialia).
All activities will take place outdoors in a shaded, well-marked area (the same as in previous editions). There is easy parking in the area, for people who bring a car or bicycle.
The plaza also has a park so that the little ones can also enjoy, as well as machines for more adults to exercise the muscles of the body.
PRESENTATION DETAILS
The authoritative beast. Hate and statist violence – Jordi Maíz
Friday August 5. Plaza de Barcelona
History is full of disgusting protagonists who, under all kinds of violence and in many cases using the State, have imposed their vision of the world and humanity on the rest of mortals. This book takes a very brief look at conservative, statist and ultra-religious authoritarianism. A path full of characters, violence and hatred that focus all their cruelty against all kinds of minorities. The authoritarian beast is a concise story in which gypsies, Jews, anarchists, communists and many other anonymous intermingle who have suffered repression and punishment by those who conceived a monochrome world.
Jordi Maíz Chacón ( Cabra , Córdoba province , 1977) is a historian specializing in the history of Majorcan Jews in the Middle Ages.
With a degree in History from the University of Barcelona and a doctorate in Medieval History from the National Distance Education University , he received the Extraordinary Doctorate Award in 2010. He has been a professor at the Associated Center of the Balearic Islands of the UNED since 2002, and is a professor of Secondary Education in several Institutes of Mallorca .
He has published texts in Spain, Argentina, Venezuela, France and Brazil.
Active member of the publisher Calumnia edicions, here we provide a link to the web so that you can delve into the magnificent work they carry out.
Sanabria Libertaria- Anarchism and popular culture in a region of Zamora
Saturday August 6, Plaza de Barcelona.
The province of Zamora is fertile in historical events of a popular nature, many of them quite unknown, which have a wide social and cultural interest. In this line, some facts relegated to oblivion were the spectacular growth and activities of the libertarian organizations in the region of Sanabria, during the years prior to the Spanish Civil War.
The region of Sanabresa, with a rich communal tradition, is located in the northwest of the province of Zamora, and in the 1930s it had a major engineering project that would determine the development of the region: the construction of the railway track between Zamora and Ourense. Hundreds of Carlanos settled there , let's retell their story.
The presentation will be carried out by its author Carlos Coca Durán.
This extensive article is edited by the magazine Amor yrabia, a periodical publication that defends anarchist ideas, in its number 79, which is already in its 4th edition and you can find the free electronic version available at the following link.
https://serhistorico.net/2021/12/29/sanabria-libertaria-anarchism-and-po…
Literary Anthology of Ricardo Flores Magón- Stories and plays in the Anarchist Press
Saturday August 6, Plaza de Barcelona
The Anarcho-syndicalist Editorial Aurora Negra is an editorial project promoted by the CNT-AIT Albacete Various Trades Union, in its commitment to support and extend the educational and cultural work of the anarchist labor movement.
In the previous edition, they visited us to present their first edition and this time they visit us to present a new title,«Literary Anthology of Ricardo Flores Magón», the new book by Aurora Negra.
They continue like this,
the saga about the figures of the libertarian movement in Mexican lands, to give it the well-deserved attention that both historical and present anarchism deserves in a region that is a perfect example of the inhuman alliances between the State and Capital.
Ricardo Flores Magón contributed both to the revolution itself that was contemporary to him and to today's generations, so his works, a great example of the anarchist cultural legacy, serve and will serve today as inspiration towards the formation of society. new and free that he and his fellows wanted, as much, as we have to want it now.
In this project we have gathered each Story, each Play, saying and sign that we have been able to of Ricardo Flores Magón, so as not to let his legacy disappear beyond Mexican lands.
Each issue represents a contribution of €10 to the Editorial, to guarantee the continuation of the self-management project and our dissemination work, which we hope will influence the generation of many more.
For a critical, revolutionary and subversive literature!
Long live land and freedom!
Butterflai. Folk Acrata against repression.
Friday August 5, Plaza de Barcelona.
Buterflai will present us with his album, Sen Esquencer , where contact with prison reality becomes a song. Poetry and texts of imprisoned people give rise to his musical creation. Sensitivity and fight for freedom, wrapped in guitar and tenorio voice. A sensitive and social transmission vehicle that reaches very deep, as deep as prison.
You can listen to the album at the following link.
https://www.youtube.com/watch?v=u2cREdlELzA
These days we will continue to update more activities that are yet to be confirmed.
All the activities will be outside in Plaza de Barcelona, ​​all being carried out in the open air.