by Alex Binder / Unicorn Riot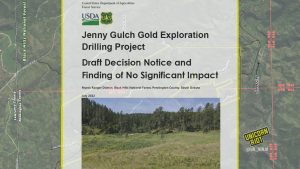 Black Hills National Forest, SD – On Thursday, the U.S. Forest Service (USFS) released their draft decision and findings on a new gold exploration project by Minneapolis-based F3 Gold. Jim Gubbels, the Mystic District Ranger in the Black Hills, compiled the 29-page report summarizing the project, and the potential effects on the environment and cultural resources, and came to the conclusion that "the Selected Alternative will not have a significant effect on the quality of the human environment. As a result, no EIS [Environmental Impact Statement] will be prepared."
This decision does not give an immediate green light for F3 to begin drilling, however it does indicate "the intent of the agency to approve the final PO [Plan of Operations] once required criteria have been met."
The final Environmental Assessment (EA) (PDF) was also released, which outlines the three actions the Forest Service could take with the proposed project—Alternative A would have shut it down, and Alternative B and C were two varying plans to move forward with it. Gubbels chose Alternative C "to minimize Project impacts across evaluated environmental issues."
However, the report then goes on to say that Alternative C "proposes more potential drill pads and associated access routes, and subsequently greater surface disturbance than the Proposed Action." So instead of the initial proposed project of a maximum of 42 drill pad sites, Alternative C has a maximum of 47 drill pad sites.
The draft decision also states that "Alternative C has been developed to minimize effects by avoiding cultural resources," but for the Indigenous people to the Black Hills, every single grain of dirt, particle of air and water, and animal are sacred cultural resources.
Steven Gunn and Harold Frazier, both of the Cheyenne River Sioux Tribe, submitted comments during the public comment period expressing that "the Tribe is opposed to any exploration or development of minerals in the Black Hills that would harm our sacred Paha Sapa, including out sacred Pe' Sla, and our traditional cultural and religious use of those lands."
The two also called for government-to-government consultations, adding that their tribe is opposed to any activity in the Black Hills "that would infringe on our rights under the Fort Laramie Treaty of 1868 and other Federal laws, including the National Historic Preservation Act ("NHPA") and the National Environmental Policy Act ("NEPA")."
Jon Eagle Sr., the NHPA preservation officer for the Standing Rock Sioux Tribe, commented stating the tribe's objection to the project. Kip Spotted Eagle, the Yankton Sioux Tribe THPO Director commented stating that the Tribal Historic Preservation Office (THPO) "does not agree with this project set forth. We are opposed to any extraction in Treaty lands and do not [think] proper consultation has been met with the Yankton Sioux Tribe."
The Forest Service is accepting objections (PDF) to their final Environmental Assessment and Draft Decision Notice no later than "45 days following the publication of the legal notice in the Rapid City Journal on July 8, 2022." However the only objections that will be accepted are from people who previously submitted comments.