from Scenes from the Atlanta Forest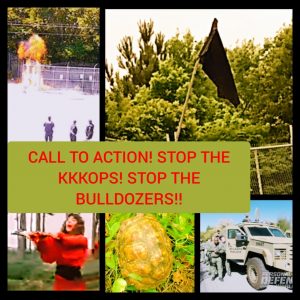 On June. 2nd, a horde of forest defenders were able to stop a bulldozer on the edge of the woods (that was being escorted by kkkops) from destroying the forest by throwing rocks, deploying fireworks, & shouting scary words!
However, cops are destroying forest defense infrastructure & we need all hands on deck to CONTINUE STOPPING THE CONSTRUCTION of cop city, & allow this scarred forest to heal.
Another tree sit has also gone up in the path our enemies plan to destroy for their racist training facility, & we need help both supporting & defending that zone!
We are welcoming ALL the tactics. Kate Bush flash mob when kkkops arrive? Fuck yeah. Frontline Action to stop machines of destruction? Fuck yeah. Please just get your sweet fucking feral ass down here.
Your house sitting gig & coffee shop job can wait– come occupy the forest, & if you got privilege, use it to throw down, as trees, community members & non-human animals are better than a clear cut lot with a militarized police training center.
The stakes are high & the forest is calling!
Come for the blackberries & community, & stay for the chaos!
Week of Action is June.2nd- till the Forest is safe!
Interested in rolling with Camp Copperhead?Drop a line to:
& We'll get back to you soon!