from anarchistnews.org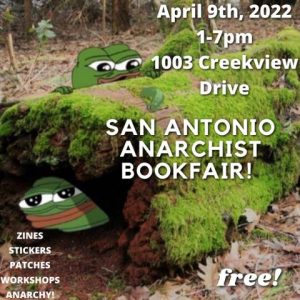 We're excited to announce the 2022 San Antonio Anarchist Bookfair! Free, all ages, april 9th 1-7pm at 1003 Creekview Drive. Please wear a mask. If you're interested in tabling or giving a talk or hosting a workshop send an email to sanantoniobookfair@protonmail.com
from anarchistnews.org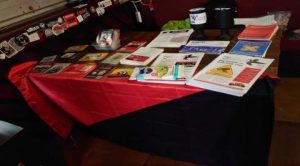 Saturday, September 3, 2022
11AM – 5PM
The 1 in 12 Club Bradford
21-23 Albion St., Bradford, UK
We are pleased to announce that the 5th annual Anarchist and Radical bookfair is planned for the 3rd September 2022. There will be stalls and hopefully some other events, talks poetry and discussions.
If you would like a stall please get in touch, we expect to charge £10 per stall for this one with all proceeds going towards the 1 in 12 Club!
Although tbc we have the following stalls lines up:
WYACG
PM Press/AK/Active Distribution
0161 Festival
Pirate Press
Cubesville
Forged Books
We hope that we will be joined by Solidarity Federation, No Sweat/Punk Ethics and Tyneside Anarchist Archive.
As usual we will have some poetry from Luke Tatty Hoggarth amongst others.
If you want to put on a "event" such as a talk etc please get in touch.
https://m.facebook.com/events/334123405170705/