by AntiStasis
Yesterday April 4, a group of Earth First! organizers from across the country closed out their national spring gathering at Fisheating Creek with a demonstration at the adjacent gates of both the Moore Haven CF state prison (run by private prison giants GEO Group) and the ICE Detention Center run in conjunction with the Glades County Sheriff, funded by shady dealings through the USDA, blowing millions in public money intended to assist rural farming communities.
Left: At the gate of Moore Haven CF and Glades County ICE Detention Center
While we were there making noise, we were seen and heard by prisoners working in the yard, families leaving visitation and staff at both facilities, across the street from each other.
This also paralleled a mobilization by the prisoner-led National Freedom Movement, who called for a day of action on April 3rd highlighting the need for massive parole reforms to free prisoners all across the country.
The protest aimed to highlight the recent reports of physical abuse and COVID-19 negligence from both these facilities as well as the national call for attention to the problems of the prisons, including environmental and public health concerns stemming from the operation of maintaining industrial warehouses holding thousands of people in cages. (Check out the full report from Immigrant Action Alliance, et al, on abuses at the Glades County ICE Detention Center here.)
These prisons are often built in remote rural locations, far from the urban base of many activist organizations. But these are places that Earth First!ers are familiar with, as they are so often the same regions where organizing against logging, mining, pipelines and other environmental atrocities are occurring.
To highlight this concern, in the nearby Manatee County another industrial disaster occurred at a phosphate mining toxic waste water storage site over the weekend. While thousands of surrounding residents were evacuated, the jail across the street was refusing to evacuate, instead proposing to move prisoners to the second floor, while toxic water was expected to flood the lower level. After public pressure from a phone zap (which EF!ers also participated in), around 260 prisoners were reported to be relocated, while over 700 more are still being left to face this environmental nightmare behind bars. It's not the first time that flood waters have literally risen around prisoners, abandoned to failing flood control systems and exacerbating climate instability.
Here in the Gulf South, prison slave labor has also been used to clean up after red tide fish kills (also in Manatee County) and oil spills, such as BP's Deepwater Horizon offshore drilling disaster, drawing connections between ecological defense, environmental justice and prison abolition.
Though Earth First! has hosted annual public gatherings every year for the past four decades, this was the first in-person event since the start of the pandemic last year. The gathering was intentionally small in numbers, in an effort to minimize COVID-19 exposure to those still at risk and not yet vaccinated, but included geographic representation from so-called California, Oregon, Michigan, Illinois, Indiana, Ohio, Kansas and across Florida.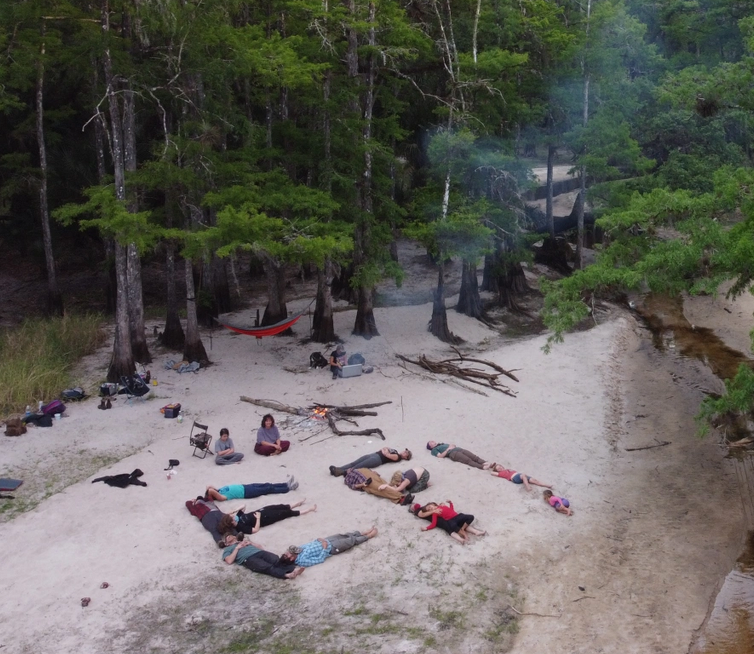 Much of the gathering's focus was on renewing support for movement communication tools like the Earth First! Journal (which is circulated among thousands of prisoners every year) and its online Newswire, which experienced setbacks from limited staffing, volunteers and financial challenges over the past year. We also discussed plans to release a 40th Anniversary edition of the Journal, along with a music compilation CD that has been in the works since last year.
The gathering also focused on discussions about strengthening connections between Earth First!, Indigenous solidarity, environmental justice and abolitionist movements. Attendees of the gathering decided to manifest this by planning a demo at the prison gates, as an expression of solidarity with immigrants and prisoners.
A little history about so-called Glades County:
"What is now called Glades County was a place of refuge where people would go to try and live full lives away from state-sponsored racial violence. In the decades before Florida was admitted to the union as a slave state in 1845, Creek and other native people migrated to Spanish-controlled Florida along with enslaved people of African descent fleeing the United States. Their descendants created the Seminole nation in what is now known as the Everglades—swampland that extends from present-day Orlando to the end of the peninsula. During the Seminole Wars in the nineteenth century, many of their descendants were killed or forcibly relocated to Oklahoma by the U.S. government. Many of those who remained were moved to a number of small reservations, including the Brighton Reservation which lies within the borders of Glades County... The swampland that covered much of the county was drained in the 1920s and 1930s for sugarcane production, which expanded steadily in the decades following. Today, 86 percent of the county is farmland." [Source] 
Fisheating Creek is the second-largest natural source of water for Lake Okeechobee (behind the Kissimmee River), supplying close to 9% of the water flowing into the lake with swallow tail kites swooping over head, riddled with gorgeous cypress trees with gnome-like knees abound, with a 40 plus mile long red-tea colored creek surrounded by white sandy beach and feral grapefruit, orange and lime trees. It is also the site of a battle over public access in the '80s and '90s, where local residents succeeding in defeated Lykes Bros from keeping people off the creek.