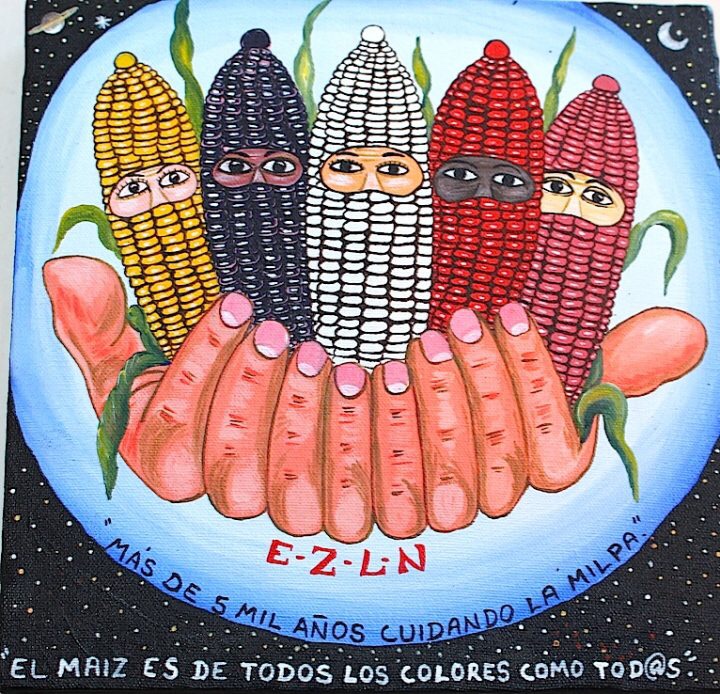 Dear friends & supporters of the EZLN and the struggle for autonomy by indigenous communities:
The Chiapas Support Committee is inviting you to join us in person on October 13, 2020, at 1:30pm PST at the offices of the Mexican Consulate in San Francisco, CA, to deliver a letter signed by almost 100 organizations and individuals calling on the Mexican government to stop the paramilitary and government-sanction violence against Indigenous and Zapatista communities in Chiapas. This will be a social distancing gathering; please wear a face-mask.
If you would like to join us in San Francisco, please contact Caitlin Manning at caitlinmanning88@gmail.com to coordinate, or just show up at 532 Folsom St., the Mexican consulate in San Francisco at 1:30.
MAKE CALLS: DEMAND MEXICAN GOVT STOP THE PARAMILITARIES
You can also support this action from afar by making phone calls to the Mexican Consulate nearest to your residence and raising your voice with ours to demand the Mexican government end the paramilitary attacks and dismantle the paramilitary groups.
See below for Mexican consulates in California. And click here for a list of Mexican consulates in the U.S. https://chiapas-support.us13.list-manage.com/track/click?u=411ba9191f0a207aff89ccc7c&id=72ef3f734d&e=f0e84c3035
BRING A SIGN, PROTEST FOR PEACE & SOLIDARITY
Although the Chiapas Support Committee's request for an in-person meeting has been denied, we will show up with signs and posters to express our opposition to the violence and demand that the Mexican government cease, abet and prosecute the paramilitaries responsible for the violence, destruction of community property and the loss of life.
We encourage those of you in other cities to pressure the Mexican consulates near you. Please send a reply email here to let us know if you made calls or organized other actions in your city or region.
MESSAGE TO THE MEXICAN GOVERNMENT
Here is a suggested message to use if you are making phone calls or sending emails to the Mexican Consulate in your city or region:
* I am alarmed at the growing violence in the Highlands of Chiapas, Mexico; specifically, in the municipalities of Aldama, Chenalhó and Chalchihuitan, where paramilitaries have violently attacked and forcibly displaced thousands of indigenous people from their homes, fields and communities.
* The Mexican government must stop the paramilitary violence in Chiapas and ensure the safety of the communities, this means:
• Stopping the paramilitary violence, ending all support to the paramilitaries and dismantling the paramilitary groups who are attacking the communities
• Acting on the complaints of victims of violence by prosecuting those responsible
Mexican Consulate San Francisco: 532 Folsom St., San Francisco, Ca 94105 (415) 354-1700
Other Mexican Consulates in California:
• Calexico 408 Herber Ave, Calexico, CA 92231 Tel: (760) 357-3863 * Fax: (760) 357-6284 E-mail: infocalexico@sre.gob.mx
• Fresno 7435 N Ingram Ave – Fresno, CA 93711 Tel: (559) 233-3065 * Fax: (559) 354-0109 E-mail: consulado@consulmexfresno.net
• Los Angeles 2401 W. Sixth St – Los Angeles, CA 90057 Tel: (213) 351-6800 * Fax: (213) 351-2114 E-mail: lapublico@sre.gob.mxOxnard 3151 W. Fifth St #E-100 – Oxnard, CA 93030 Tel: (805) 984-8738 * Fax: (805) 984-8747 E-mail: consul@consulmexoxnard.com
• Sacramento 2093 Arena Blvd – Sacramento, CA 95834 Tel: (916) 441-3287 * Fax: (916) 441-3176 E-mail: sacramento@sre.gob.mx San Bernardino 293 North "D" St
• San Bernardino, CA 92401 Tel: (909) 889-9836 * Fax: (909) 889-8285 E-mail: conmexbe@hotmail.com San Diego 1549 India St
• San Diego, CA 92101 Tel: (619) 231-8414 * Fax: (619) 231-4802 E-mail: info@consulmexsd.org
• San Francisco 532 Folsom St – San Francisco, CA 94105 Tel: (415) 354-1700 * Fax: (415) 495-3971 E-mail: confrancisco@sre.gob.mx
• San Jose 2125 Zanker Rd, San Jose, CA 95131 Tel: (408) 294-3414 * Fax: (408) 294-4506 E-mail: consjose@sre.gob.mx
• Santa Ana 828 North Broadway St – Santa Ana, CA 92701- 3424 Tel: (714) 835-3069 * Fax: (714) 835-3472 E-mail: consana@sre.gob.mx
A list of all consulates, with addresses, phone numbers and emails, can be found here: https://chiapas-support.us13.list-manage.com/track/click?u=411ba9191f0a207aff89ccc7c&id=b5ec1219e9&e=f0e84c3035
For peace & solidarity,
Chiapas Support Committee
Oakland, California
Email: enapoyo1994@yahoo.com
Blog: www.chiapas-support.org